2019
22 sept 14:00, Museum Buitenplaats Eelde
Music by Leo Smit, Daniël Ruyneman
3, 10, 17 okt Zwolle 3UL 13:30-16:00 3 lezingen (met live muziek) Muziek & Natuur info&aanmelden
6 nov Festival Sounds of Music Groningen & Anne Meredith
with Prins Claus Conservatorium,
lunchconcert Oosterpoort, eveningconcert Grand Theatre
8 nov Grand Theatre Groningen – project Meredith
9 nov Rockit Festival Oosterpoort Groningen – project Meredith
24 nov 16:00 Rotterdam, Projectruimte Attent
bcl solo – Walk the Dog – Ziporyn
2020
10 may Neue Musik in St.Ruprecht Vienna info
Fie Schouten low clarinets & Florentin Ginot double bass
11, 12, may Vienna – masterclasses
13 may Alte Schmiede Vienna
Fie Schouten, Petra & Heinz-Peter Stump-Linshalm clarinets
17 may 12:00-13:00 Kruiskerk, Amstelveen
Trio Kassl-Schouten-IJlstra
acc, clarinets, sax
7 juni 15:00 Capriccio Clarinet Choir & solisten Oosterpoort Groningen
info&tickets
autumn series Noorderkerkconcerten Amsterdam info
Greek afternoon, music by Calliope Tsoupaki, Aspasia Nasopoulou, traditionals
Lyrisch Laag: Fie Schouten bcl, Eva van de Poll vlc, Berend Eijkhout singer
Basklarinet Festijn 4 – percussive !
PAST
2019
18 july [private] lecture about the bass clarinet & contemporary music with performance of Song for solo (bass)clarinet, the motion caused by Ig Henneman
21, 28 juni, 5, 12 juli
Cursus Muziek & Natuur HOVO Nijmegen info&inschrijven

26 june Keulen (D) 20:00 @Atelier Geitel/Dürrenfeld
Improvisation-trio Salim Javaid (sax), Florentin Ginot (cb), Fie Schouten (clar)
Fotos link
23 june 15:00 Haarlem
Trio Femke IJlstra sax, Fie Schouten (bas)klar, Marko Kassl acc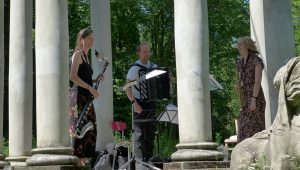 22 juni Plein Theater Amsterdam Openingsconcert Nieuwe Noten
20 juni Zwolle 3UL 13:30-16:00 lezing 'proeverij' (met live muziek) Muziek & Natuur info&aanmelden
14 june 20:15 Concertgebouw Amsterdam tickets
Royal Concertgebouw Orchestra & Aimard, pianoconcerto Harrison Birtwistle (I will play the contrabass clarinetpart)
20-22 mei masterclasses for clarinetists and composers @ Jerusalem Academy of Music and Dance, Israël
20 mei 20:00 solo concert in Jerusalem, @ Mazkeka series Night Concert: info
14 may 21:00 Zaal100 impro Jazz café with Ig Henneman, Anne LaBerge, Tristan Renfrow, Sanem Kalfa

4 may Huizen, Het Promenade Orkest – Mozart Requiem
20 april 20:15 Concertgebouw Kleine Zaal, Amsterdam
Music by Theo Loevendie, Lerchen-Trio by Trio Arti (Schouten, vdPoll, Shichijo) info
16 april Amsterdam, Roze Tanker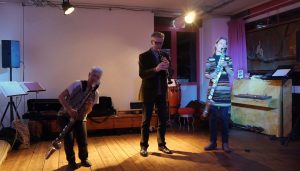 13 april Venlo – Mozart Requiem
9 mrt 14:00-15:30 Her-opening Plein Theater Amsterdam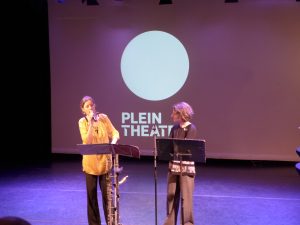 25-27 febr '19 Prins Claus Conservatorium Groningen Info & tickets
Tarmo Johannes & Taavi Kerikmäe, masterclass & concert (27 febr 20:15)
27 jan Galerie Marzee Nijmegen tickets
Basklarinet Festijn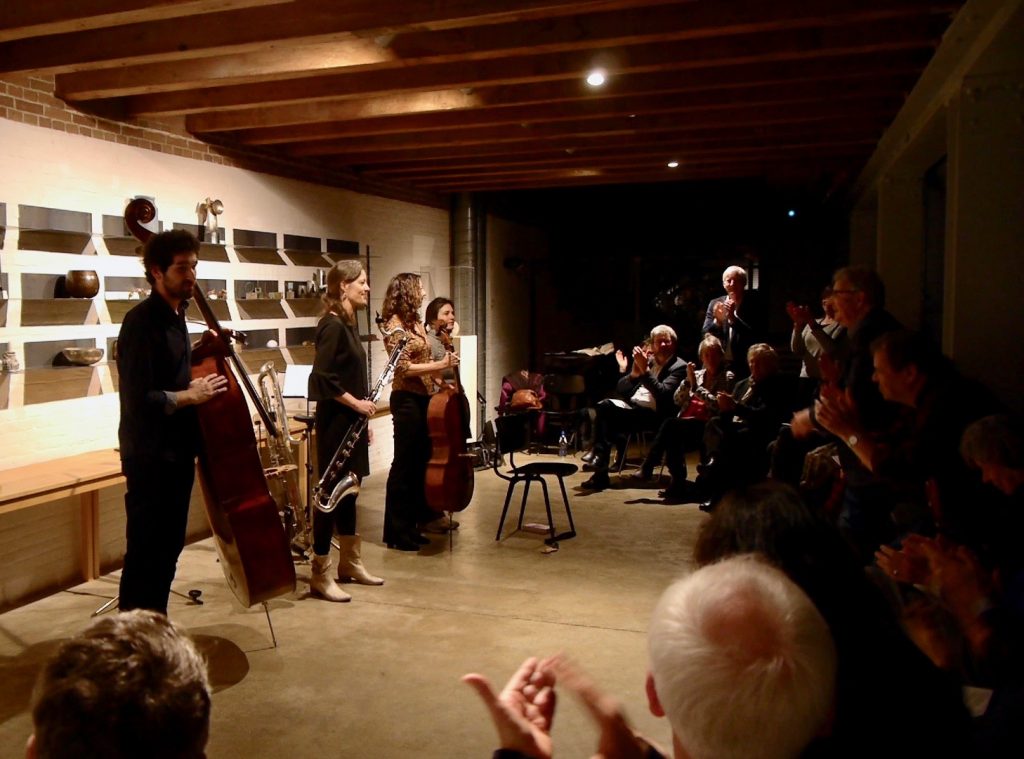 2018
28 dec PAN Calefax Muziekgebouw aan 't IJ, Amsterdam 19:30 info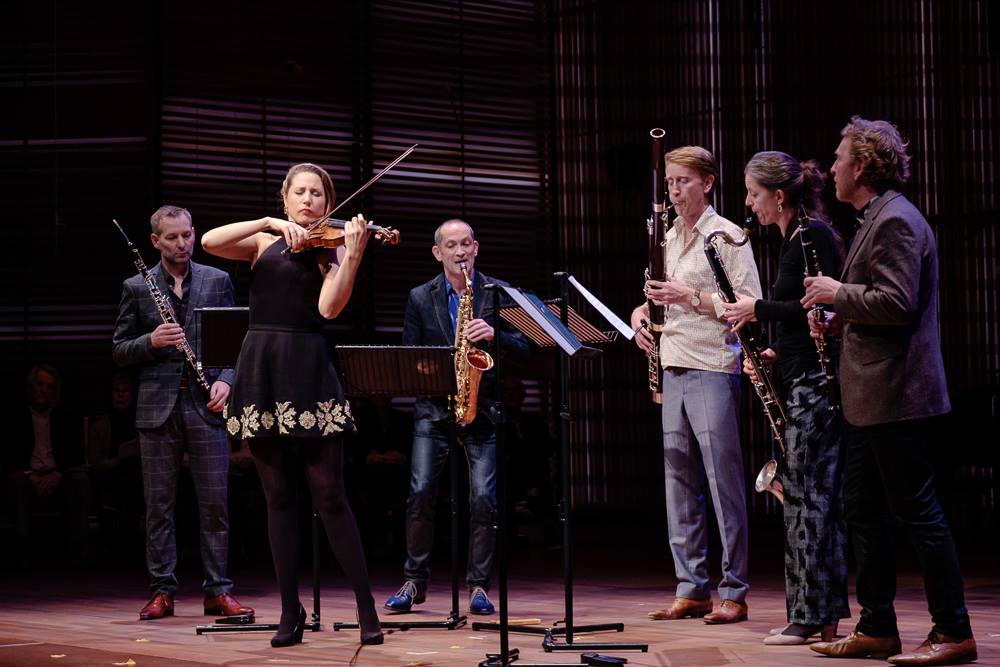 13 dec Azijnfabriek, Den Bosch
Fie Schouten, Femke IJlstra sax, Marko Kassl accordeon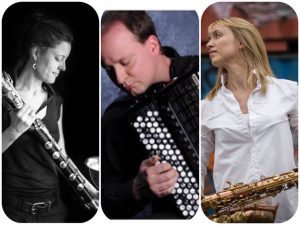 2 dec '18 Orgelpark Amsterdam tickets
Basklarinet Festijn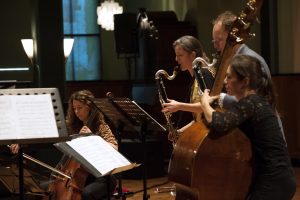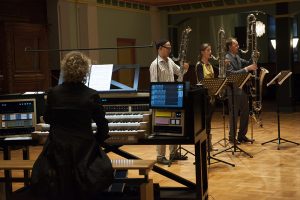 1 dec Basklarinetmasterclass voor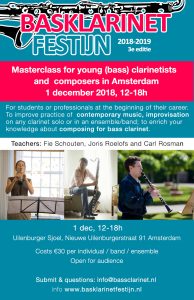 basklarinettisten/componisten Uilenburger Sjoel Amsterdam info
Basklarinet Festijn
17 nov (Bas)klarinetdag voor amateurs Volta Amsterdam
Basklarinet Festijn link voor meer informatie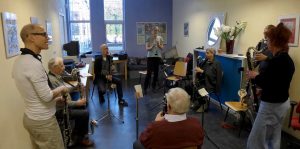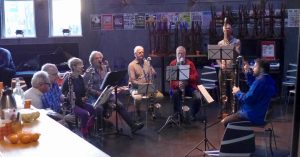 23 nov Het Promenade Orkest, Uithoorn
Mozart, Requiem
13nov Late Night Lab – Radio Klara (22:00 – 00:00) highlights of Transit-festival (13 & 14 oktober 2018) Leuven. Works by Frederik Neyrinck (with Fie Schouten & Beltane Ruiz 22:09), Stefan Van Eycken, James Dillon, Jasper Vanpaemel, Tim Mariën en Liesa Van der Aa. listen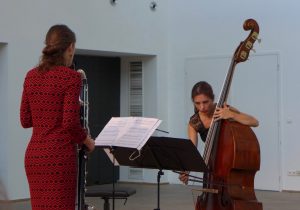 10 nov Open Day Prince Claus  Conservatoire Groningen
6 nov 22:19 Aandacht voor cd Chambery & Basklarinet Festijn op Radio Helmond luisteren
7 nov Festival Sounds of Music, Groningen
music by Clara Ianotta tickets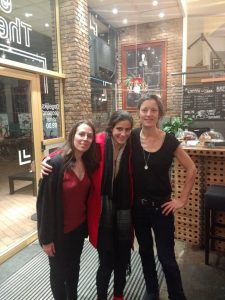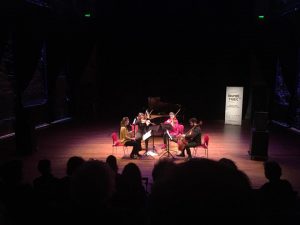 2nov HardRain SoloistEnsemble, Belfast (UK) music by Irish composers & Tristan Murail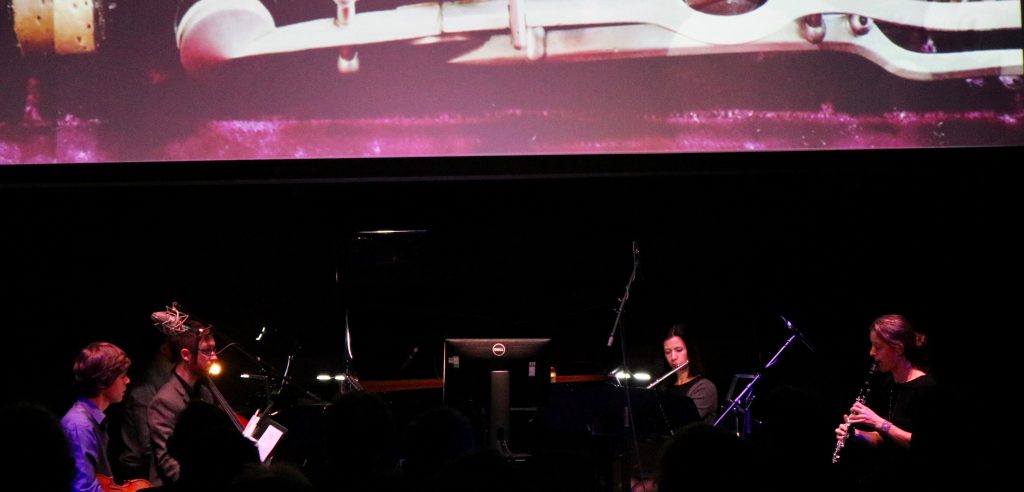 4 nov November Music Festival Den Bosch 15:30 & 17:15
Basklarinet Festijn tickets
14 okt 14:00 Transit Festival, STUK Leuven
Basklarinet Festijn tickets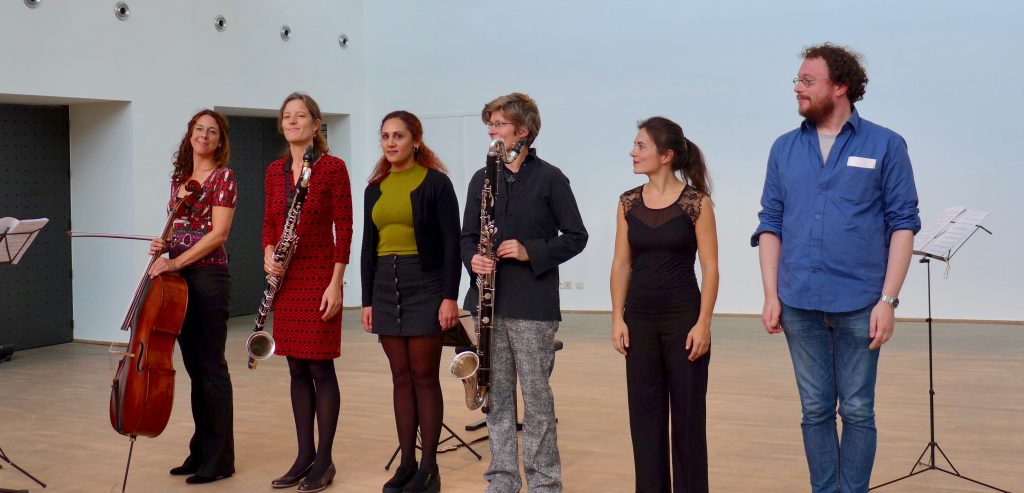 18 okt 22:30-00:00 live, guest at Radio 4 Opium Fie Schouten&Jelte Althuis low clarinets with fragments of the new CD Chambery
9 okt 20:30Grand Theatre Groningen
Basklarinet Festijn tickets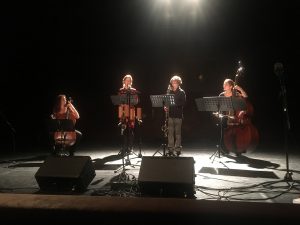 7 oct 11:00 Oosterpoort Groningen
Koffie Klassiek, Prins Claus Conservatorium
23 sept 13:30 Festival Musica Sacra Maastricht, Basklarinet Festijn info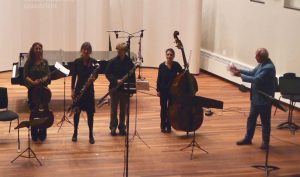 7 sept @ Gaudeamus Muziekweek Utrecht
as jurymember for Tera de Marez Oyens (composition) Price
6 sept Gaudeamus Muziekweek Utrecht – Basklarinet Festijn
Fie Schouten, Eva van de Poll, Jeroen Kimman, Germaine Sijstermans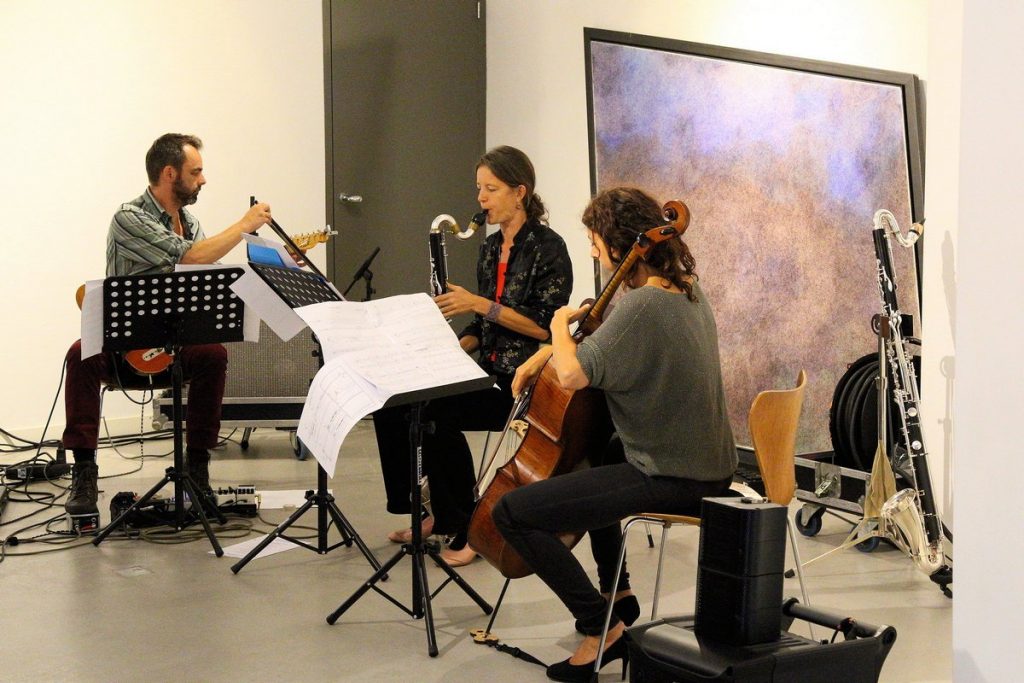 25 aug JazzFietsTour Groningen
Lyrisch Laag: Fie Schouten, Jelte Althuis, Giuseppe Doronzo, Wilbert de Joode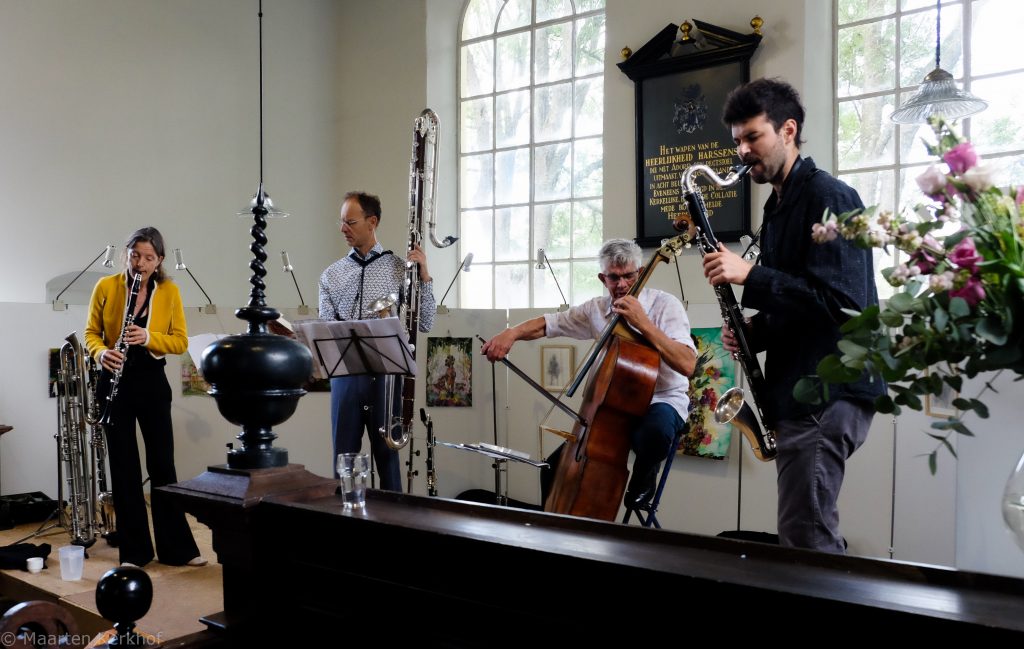 26 aug Uitmarkt Amsterdam, Conservatorium van Amsterdam
Fie Schouten, Tobias Klein bass clarinet, Goska Isphording harpsichord

CD recording Chambery @ Orgelpark, Splendor Amsterdam

BALTISCHE KLANKEN Zwolle info & aanmelden
woe. 27 juni, 4, 11 juli 2018 13:30-16:00
BALTISCHE KLANKEN HOVO Nijmegen
vr. 29 juni, 6,13 juli 2018
7,8,9 juli ClarinetFest2018 Oostende (B)
7 juli 17:45 solo recital In Freundschaft Stockhausen, Sprezzatura Janssen
8 juli 17.45 bass clarinetconcertino Tiefes Rot – Petra Stump-Linshalm
Fie Schouten bcl solo & Capriccio Clarinet Choir
9 juli 9:40 basklarinetensemble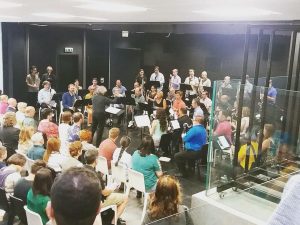 23 juni Café Welling, Amsterdam
40jr Café Welling 20:00-21:30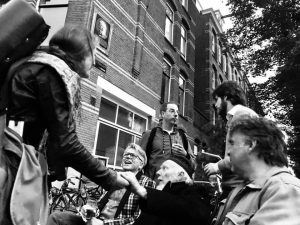 1 juli Vondelpark Openluchttheater Amsterdam 12:00-12:25
Lyrisch Laag: Fie Schouten bass clarinet, James Aylward bassoon, Sasja Janssen poetry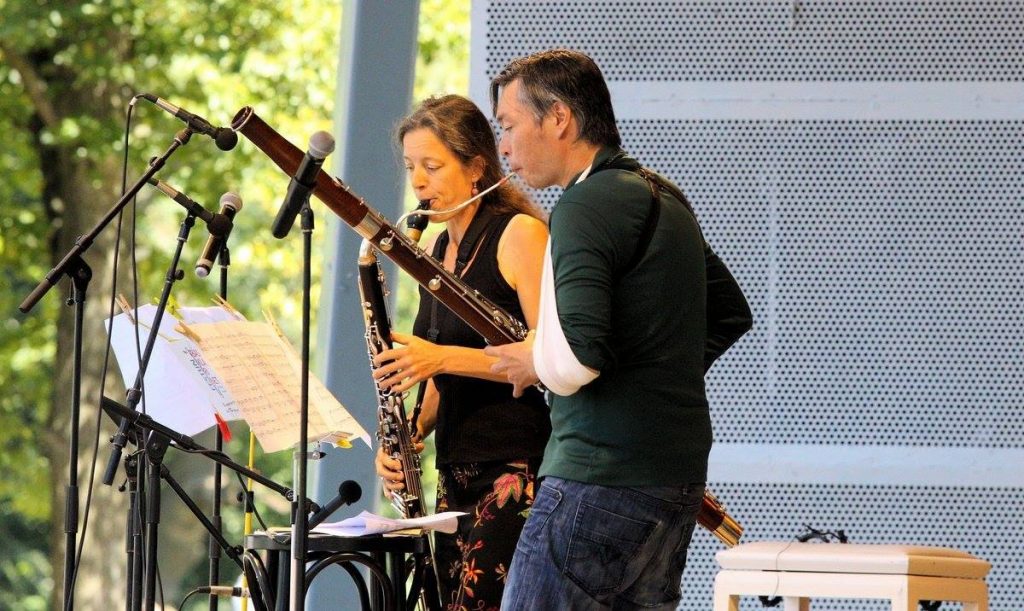 10 june Bimhuis, Amsterdam
Homage to Harry Sparnaay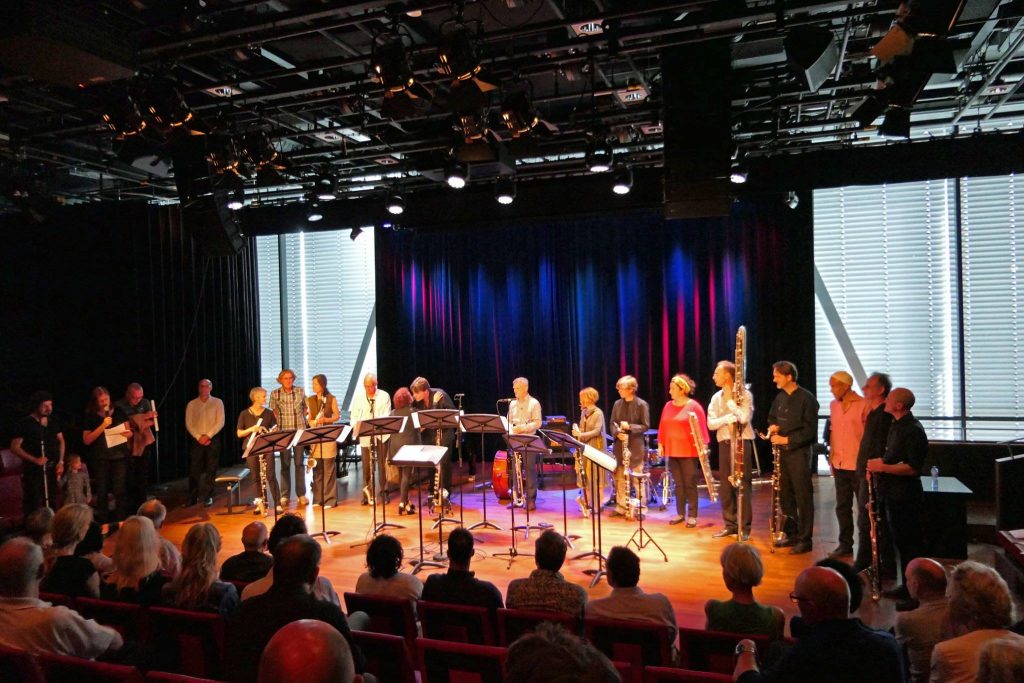 27 mei 11:00/12:30 Muze van Zuid, Amsterdam
met Katharina Gross, Pauline Post tickets
3 june NIEUWE NOTEN Amsterdam
16:00 De Roode Bioscoop Amsterdam – Oehring, Rihm, Yun
Trio Arti: Fie Schouten, Eva van de Poll, Keiko Shichijo
12may masterclass/workshop bass clarinet @Codarts Rotterdam
teachers: Ken Kunita, Fie Schouten, Davide Lattuada
3 may 12:30 Podium Azijnfabriek Den Bosch
3 clarinets & piano
10-12 april in Ireland
concerts with Hard Rain Soloist Ensemble
15 april Philharmonie, Haarlem
Mozart Requiem with HPO
13-15 march @ Estonian Academy of Music and Theatre
masterclasses & concert
10 march MusikFabrik, Unna (D)
17 february 2018 10-16 Open Day Prince Claus Conservatoire  information
17 febr 20:30 Podium Mozaiek, Amsterdam
reART Collective, Tijdreis door honderd jaar muziek uit Istanbul
11 febr Kruiskerk Amstelveen
Lyrisch Laag: Fie Schouten & Jelte Althuis basklarinetten
& orgel Henny Heikens
BALTISCHE KLANKEN Senioren academie Groningen
do. 25jan, 1, 8 febr 2018
1 febr Martyrium Amsterdam
boekpresentatie Klaas ten Holt (Sprezzatura, Guus Janssen, bkl solo)
14 jan Naarden, Grote Kerk, AmsterdamSymfOrchestra
Mendelssohn, Rossini, Bartok
2017
zo. 10 dec NIEUWE NOTEN Amsterdam
15:00 Café De Ruimte Amsterdam
Lyrisch Laag: Fie Schouten & Jelte Althuis bass clarinets
+ percussion Ryoko Imai & Rie Wanatebe
18 nov Het Promenade Orkest
wo. 8 nov Festival Sounds of Music Groningen
bass clarinetsolo Walk the Dog – Evan Ziporyn
Fie Schouten – bass clarinet & art-academy Minerva
9nov Festival Sounds of Music Groningen
studenten led by Fie Schouten, music by Julia Wolfe
masterclass with Wolfe + concert
10nov Tivoli-Vredenburg Utrecht 12.30
studenten led by Fie Schouten, music by Julia Wolfe
11nov Open Dag Prins Claus Conservatorium 10-16
11:00: studenten led by Fie Schouten, music by Julia Wolfe
zo. 5 nov De Harmonie Leeuwarden
Koffieconcert with woodwindsection of Prince Claus Conservatoire and teachers Fie Schouten (bass clarinet), Egbert-Jan Louwerse (flute)
28,29 oct Het Promenade Orkest
29 sept Huis de Pinto Amsterdam
Fie Schouten bass clarinet (Monolog – Yun) & poets speaking about their work: Sasja Janssen ao.
zo. 17 sept Festival Music&Poetry Amsterdam
11:00 De Nieuwe KHL Amsterdam
Trio Arti Fie Schouten (bas)klarinet, Eva vd Poll cello, Keiko Shichijo piano
Weill x contemporary
10 sept start NIEUWE NOTEN Amsterdam 17/18
15:00 Café De Ruimte Amsterdam
Duo Fie Schouten baskl, Marko Kassl accordeon
Goska Isphording harpsichord
Poetry by Hannah van Binsbergen
zat. 26 aug Bass clarinets @ Uitmarkt Amsterdam
Fie Schouten, Jelte Althuis, Oguz Büyükberber, Tobias Klein
14:00 Muziekgebouw aan 't IJ, Kleine Zaal
15:30 Conservatorium van Amsterdam
26 aug Hoogezand with Capriccio Clarinet Choir & Brittish Clarinet Ensemble
Ballade – Bozza, bass cl concertino
23 july Zomer aan de Roosloot (near Bergen NH)
basscl solo: music Rozalie Hirs, Ton de Leeuw & Klaas ten Holt & poet Sasja Janssen
BALTISCHE KLANKEN 3 lectures with live-music (in Dutch)
29 juni-6 juli-13 juli 2017, HOVO-VU Amsterdam
8,9 july Het Balletorkest, Stopera Amsterdam, Jacob TV
25 june Festival CityProms
14:00
Concert Wilhelminaplein
Lyrisch Laag in concert – Fie Schouten, Jelte Althuis bcl, Giuseppe Doronzo bsax
24 june Festival CityProms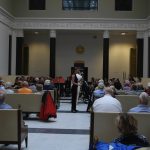 Workshop for low clarinets&saxophones
Concert @ Hal van Het Gerechtshof
premiere bass clarinetconcertino by Petra Stump-Linshalm
Fie Schouten bcl & Capriccio Clarinet Choir
article by Thea Derks