https://blogdotataritaritata.blogspot.com/2022/09/rita-rudner-ingrid-jonker-grace-aguilar.html
https://www.citizenjazz.com/ZomerJazzFietsTour-a-coups-de-pedales.html
Henning Bolte: The first stop at the church of Garnwerd was the occasion to present the creation of a new Franco-Dutch combination consisting of cellist Vincent Courtois, (bass) clarinettist Louis Sclavis, bass clarinettist Fie Schouten and pianist/organist Guus Janssen. Schouten is a leading figure in contemporary music on her instrument, Janssen is a border-crosser between contemporary music as a composer and improvised music. He is the current pianist of the legendary Instant Composers Pool (ICP), replacing founder Misha Mengelberg (1935-2017).
This association quickly found common ground within its differences, vividly illuminating each other's approaches and sometimes dramatically intertwining their particular qualities and colorations. The "round" French side joined the more cunning and playful "Dutch" side, with complex traces of Loevendie and Messiaen. This collaboration is an extension of the flourishing connection between contemporary composed and improvised music that Fie Schouten created with her concertseries Nieuwe Noten/New Notes. The interaction of the four musicians clearly demonstrated the originality and rich potential of this common ground.
Interview Klassikraadio 1.6.2021 (live in Tallinn, Estonia)

Portrait-interview with Thea Derks in De Nieuwe Muze link to the article in English (febr 2021)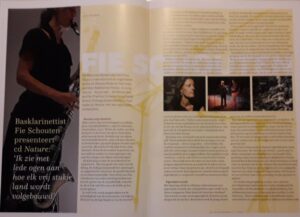 'This album (Chambery, 2018) is truly outstanding and represents bass clarinet playing and chamber music at the highest level. Aside from the beautiful musicianship within each track, it must also be mentioned that the album as a whole has a clear artistic arc and musical clarity that is a welcome addition to the world of contemporary music and clarinet recordings.'
Prewitt (dec 2019) Magazine The Clarinet (USA)

'Great sound, such richness and flexibility. The quality is very alive and free.'
'She proves how pleasant contemporary music can be.'
more in Dutch…!!
Erik Voermans in Het Parool 17 nov 2018 about the CD Chambery, compositions by Tobias Klein:
'The work of a playful mind … cheerful enchantment emanating from the sounds … performed by top-notch players such as Fie Schouten and Jelte Althuis…'
Wim Maasakkers nov '18 Radio Omroep Helmond: "Over 20 years, the bass clarinet is the most favorite clarinet of Fie Schouten. She is well versed in the avant garde and knows how to make it sound attractive and beautiful as you can hear on this CD. The quality of Klein's  compositions suit her supple and subtle virtuose use of Jazz traditions while trained as a classical musician. The opening track 'Leichte Überlappungen' invites you into a special  cosmos of passion and melancholy characterizing all the compositions on this CD.'
2011 Neue Musik Zeitung – link
"LICHT–BILDER, eine enzyklopädischen Litanei, in dem die Elemente, alles, was lebt, das Lob Gottes singt: Doch das Gotteslob, das im "Gesang der Jünglinge" als inhaltlicher Kern die Form nicht aufgefressen hat, mündet hier in eine entsetzlich additive Fleißübung, die durch die brillante Performance der auswendig spielenden Solisten – Marco Blaauw, Hubert Mayer, Chloé L'Abbé, Fie Schouten und Benjamin Kobler – letztlich auch nicht gerettet werden kann……Bebildert wird das ganze von einer harmlosen, enumerativen 3D-Show, die zu großen Teilen der Schmuck-Werbung entstammen könnte und sich jeglichem Rhythmus, jeglicher Musikalität nicht einmal zu entledigen braucht, da sie diese noch nicht einmal im Keim enthält."