Order CD? send an email to info@bassclarinet.nl (€15+postage)
Buy download? Via Bandcamp
The compositions on this CD belong together since each work is inspired by nature or natural phenomena. Each track on this CD guides the eye upwards: from the sea (Tsoupaki), to the birds in the sky (Messiaen), to the cirrus clouds (Harvey), to the moon (Saariaho) and finally to the stars (Aperghis).
Calling was composed by Calliope Tsoupaki (NL/GR) for me in 2015. The work is a musical expression of  the fight against whaling in the exhibition of visual artist Fiona Tan. It is a lamento in which the sea, looking out over the ocean, plays an important role and personal sadness is expressed as well. Abîme des oiseaux from the Quatuor pour la fin du temps by Olivier Messiaen (F) is one of the most important works from the 20th century for clarinet, dealing with the inscrutability of birds. The piece is partly désolé (disconsolate) and sometimes agile, in which the birds clearly make themselves heard. I have chosen to play it on the sonorous, yet slender and flexible basset horn. Cirrus Light by Jonathan Harvey (UK) was composed during the last summer of Harvey's life. He sat in his wheelchair and watched the skies with drifting stringy clouds, high and slow. These cirrus clouds with icy crystals, are clearly expressed in the music. In Oi Kuu by Kaija Saariaho (FI) other nebulae and clouds can be heard, perhaps nebulae of the moon. The flageolets of the cello and the multiphonics of the bass clarinet are interwoven in the duo entitled 'oh moon'. Façade-Trio by George Aperghis (F) has not been recorded nor performed outside France before. It is a theatrical work in which the instrumentalists sit in a triangle. The percussion placed in the middle with two kick drums, left and right, flanked by bass clarinets. They relate to each other like stars in a constellation. For the bass clarinets the sounds go from the lowest note to unusual heights. The textures are sometimes as dense as the Milky Way…
Finally, the bonus track Mankind ReMix that Michael Finnissy (UK) composed for me in August 2020. The composition is musically linked to the work he composed in 2018, commissioned by the Basklarinet Festijn Tussen Rede en Gevoel. Finnissy's comment on the solo: "it's about human nature, and mankind as cultivator of Nature".
Fie Schouten
English translation thanks to Gudrun Klein, Sonja Heimann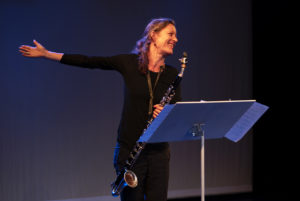 Reactions:
Calliope Tsoupaki: you create a magical space with your sound, almost plastic, tangible and sensual
Anna Harvey (daughter of Jonathan Harvey): you have really captured that spacious, other-worldly quality which I love about this piece
Thea Derks: great performance & recording technique

credits:
recording Arjan van Asselt track 4,5; Andreas Fröba track 1,2,3,6
Orgelpark Amsterdam, The Netherlands track 4,5
& SBA+C, Italy track 1,2,3,6
recorded in September 2020
editing, mixing and mastering Arjan van Asselt
photos Andreas Fröba
portrait photo Fie Schouten Elisabeth Melchior
artwork Liluc design
idea & realisation Fie Schouten