The editor of this (sheetmusic) album with 11 miniatures is bass clarinettist Fie Schouten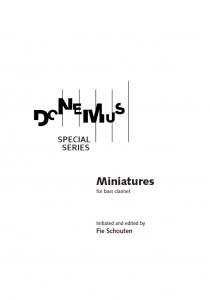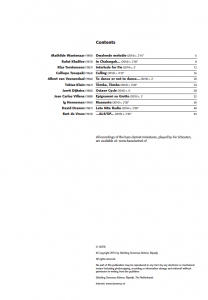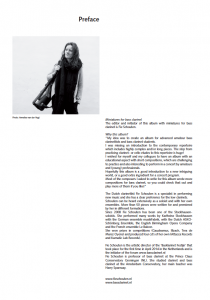 Buy the album Donemus webshop | Download Newzik €26,01 | Download PDF € 31,21 | Hardcopy study size €42,70
About the album:
Ben Taffijn jan 2016:
"Als docent basklarinet aan het Prins Claus Conservatorium in Groningen had Fie Schouten behoefte aan goede solo stukken, op een niet al te complex niveau, voor basklarinet…"
lees recensie
Michael Lowenstern oct 2015:
"Fie Schouten has curated and assembled a terrific collection of intermediate- to advanced-level solo works in her her "Miniatures for Bass Clarinet"
read further
Gregory Barrett in The Clarinet sept 2016:
"Excellent materials devoted to bass clarinet performance"
read further

Recordings of all the 10 soli by Fie Schouten, 1 duo by Schouten-Althuis – bcl:











Why?
"My idea was to create an album for advanced amateur bass clarinettists and bass clarinet students.
I was missing an introduction to the contemporary repertoire which includes highly complex and/or long pieces. The step from practicing clarinet- or cello etudes to this repertoire is huge!
I wished for myself and my collegues to have an album with an educational aspect with short compositions, which are challenging to practice and also interesting to perform in a concert by amateurs and (young) professionals.
Hopefully this album is a good introduction to a new intriguing world, or a good extra ingredient for a concert program.
Most of the composers I asked to write for this album wrote more compositions for bass clarinet, so you could check that out and play more of them if you like!"
Thanks to Fonds Podiumkunsten, Fonds voor Cultuurparticipatie, Donemus, the composers, Arjan van Asselt, Splendor
Album number 1 will be with mainly Dutch compositions.
All pieces are written for and premiered by Fie Schouten
But if you happen to be an interested composer and not living in the Netherlands, let me know 🙂
info@bassclarinet.nl