In 2000 the Karina Erhard together with Fie Schouten founded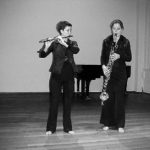 Kaida. During 7 years they worked intesively and played many concerts. They worked as a duo, with pianists and a lot of composers.
One of their main goals was to explore the connection between contemporary written and improvised music. Their refreshing approach to music and high level of playing are convincing: in 2003 Kaida was awarded the special prize for improvisation at the 'International Gaudeamus Competition' as well as the special prize 'Buffet-Crampon' during the 'International Chamber-music Competition Illzach' (France). In 2001 the ensemble received the 'Stichting Tera de Marez Oyens Fonds' prize.
Apart from playing regular concerts, the ensemble performed at various large festivals in the Netherlands and abroad, including the International Gaudeamus Musicweek 2002 NL, Festival Spazio Musica Cagliari and Festival Nuovi Spazi Musicali Roma (Italy), Ferienkurse für Neue Musik Darmstadt (Germany), the Ciclo de Musica Contemporanea at Tenerife and Bassclarinetfestival of Catalunia (Spain), the festival Music Accord in Illzach (France).
Kaida is an Indian word meaning 'improvisation on a basic rhythmic pattern' and the title of the first piece they played: Kaida (1990) by Jan Rokus van Roosendael for flute, bass clarinet and piano.

Reunion 2020 in duo and in quartet
Kaida meets The Great Boredom, live at Projektraum Streitfeld, München
The Great Boredom:
Nicolas Schulze- fender rhodes piano/sampler & Daniel Kartmann- drums
DUO CD 'Of Villages and Spaces' 2005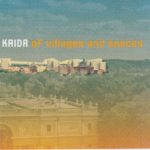 Fie Schouten (bass) clarinet – Karina Erhard flutes
Karnatic Lab Records (KLR006)
Listen and/or buy via Bandcamp
-order (€15 excl shipping): info@bassclarinet.nl
Karina Erhard and Fie Schouten have taken Holland's new music scene by storm over the last several years with their group, Kaida. This debut shows why they've been winning prizes throughout Europe, whether playing in small city clubs, at the Darmstadt music festival or in the Concertgebouw. Between the funky grooves from David Lang and the ambient sounds of Salvatore Sciarrino, the music here is haunting, wild, and beautiful, and always impeccably played.
Recordings of pieces composed for Kaida:
Gift of the Gab (2004) – Marco Beck
Duo + live electronics, 9min
__________
Mutationen (2003) – Stefan Busch
Trio + soundtrack, 12min
Kaida + Stefan Busch, piano
__________
Bezonken (2004) – Stefan Busch
Trio + soundtrack, 12min
Kaida + Stefan Busch, piano
__________
The Recurring nightmare of Kubla Kahn (2004) – Dominy Clements
Duo + accordeon (Theo Bodewits), 10min
__________
Border Towns of Central Europe (2004) – Joe Cutler
Duo, 8min
(CD Of Villages and Spaces, KLR006)
__________
Veeg (2004) – Jorrit Dijkstra
Alto flute, bass clarinet, soundtrack, 7min
(CD Of Villages and Spaces, KLR006)
__________
Struisvogelmuziek (2005) – Christiaan de Jong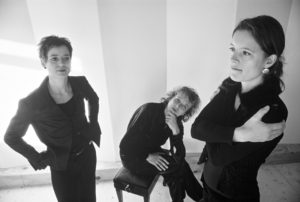 __________
Mensole salvaspazio (2005) – Andrea Fontemaggi
Trio, 12min
Kaida + Nora Mulder, piano
__________
Vertige fixe (2004) – Nicolas Gilbert
Duo, 5min
__________
Urban Turban (2003) – Ned McGowan
Trio, 8min
Kaida + Nora Mulder, piano
__________
Digit#1b (2004) – Mayke Nas
3 pairs of hands, 4min
__________
Rainbow 3 (2003) – Hanna Kulenty
Trio, 12min
Kaida + Nora Mulder, piano
__________
Sleep, sleep, gypsy (2003) – Vanessa Lann
Trio + microphone, amp, 12min
Kaida + Nora Mulder, piano
__________
Bogus bogey (2005) – Tobias Klein
Trio, 7min Kaida + Nora Mulder, piano
(CD Chambery 2018, ATT 2018.156)
__________
Double Palindrome (2003) – Seung-Won Oh
Trio, 13min > luister
Kaida + Nora Mulder, piano
__________
The Pillar (2003) – Filippo Perocco
Trio 9 min
Kaida + Nora Mulder, piano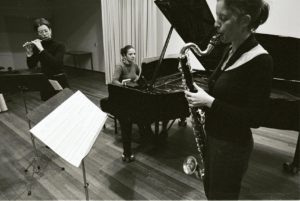 __________
Trio (2002) – Calliope Tsoupaki
Trio 15min
Kaida + Sonsoles Alonso, piano