Nature (2020)
Kamermuziek voor (bas)klarinet
Musici: Fie Schouten basklarinet, klarinet, bassethoorn
Jelte Althuis basklarinet, Tatiana Koleva percussie, Eva van de Poll cello
Muziek van Calliope Tsoupaki, Olivier Messiaen, Jonathan Harvey, Kaija Saariaho, Georges Aperghis, Michael Finnissy
Label: SOL Classics (SOL 010)
1 Calling (2015) – Calliope Tsoupaki
Fie Schouten bass clarinet
2 Abîme des oiseaux (1940) – Olivier Messiaen
Fie Schouten bassethorn
3 Cirrus Light (2012) – Jonathan Harvey
Fie Schouten clarinet
4 Oi Kuu (1990) – Kaija Saariaho
Fie Schouten bass clarinet, Eva van de Poll violoncello
5 Façade-Trio (1998) – Georges Aperghis
Fie Schouten, Jelte Althuis bass clarinet, Tatiana Koleva percussion
6 Mankind ReMix (2020) – Michael Finnissy
Fie Schouten – bass clarinet
Bestellen? Stuur een email naar info@bassclarinet.nl (€15+verzendkosten)
Download kopen of beluisteren via Bandcamp

Lenen via Muziekweb
Reacties:
Calliope Tsoupaki: jij creëert met je klank een magische ruimte, bijna plastisch, tastbaar en sensueel
Anna Harvey (daughter of Jonathan Harvey): you have really captured that spacious, other-worldly quality which I love about this piece
Georges Aperghis: "..c'est un grand plaisir de vous écouter la (Façade-Trio) jouer…"
Vanessa Davis (The Clarinet, USA) aug21: The diversity of works presented combined with Schouten's expert performance on bass clarinet, basset horn and soprano clarinet make this album is a must-listen for all connoisseurs of low clarinet and its music… Schouten's ability to use timbral definition to highlight the growth of intensity in repeated passages creates a sense of movement much like floating…We hear Schouten and Althuis bringing life to this intense and emotional conversation between two bass clarinets. lees verder
Erik Voermans (Het Parool) 18.3.21: "Grenzeloos mooie klanken…mooie cd." lees verder
Max Christie (TheWholeNote, Canada) febr21: Fie Schouten makes the bass clarinet ring with a gorgeous sound….Messiaen.. at a perfect fourth below the original pitch, desolation is powerfully rendered by the lower voice…Saariaho.. beautifull…Aperghis…stunning… sounds like a dialogue of mad twins..Finnissy…right in Schouten's wheelhouse: singing tone and powerful expression." lees helemaal
Holly Moors (Moors Magazine): Een juweel van een album, dat doet verlangen naar de live optredens. Maar het album is voorlopig een heel mooi alternatief. verder lezen
Henk Jansen (De Klarinet): de cello en dubbeltonen in de basklarinet. De twee instrumenten passen bijzonder goed bij elkaar. Samen creëren ze een verstilde klankwereld die fascinerend is in haar ongrijpbaarheid verder lezen
Ben Taffijn (Nieuwe Noten): "..Op dit (basklarinet) instrument geldt zij (Fie Schouten) inmiddels als autoriteit, wat betekent dat we hier uitvoeringen krijgen op het allerhoogste niveau…" verder lezen
Klassikraadio Tallinn, Estland 1.6.2021 interview+fragmenten naluisteren
Overige reacties:
"Je trouve très interessants les pièces choisies et surprenant la version de Abîme des oiseaux de Messiean vu avec ton instrument, je n'avais jamais eu cette idée mais je trouve ça génial. bravo également aux autres musiciens pour Aperghis, les effets sont très réusis, et techniquement tres bien"
"great performance & recording technique"

De composities op deze cd horen bij elkaar omdat elk werk de natuur of natuurverschijnselen als inspiratiebron had. Met elke track op deze cd gaat de blik verder omhoog: van de zee (Tsoupaki), naar de vogels in de lucht (Messiaen), naar de cirrus wolken (Harvey), naar de maan (Saariaho) en uiteindelijk naar de sterren (Aperghis).
Calling heeft Calliope Tsoupaki (NL/GR) voor mij gecomponeerd in 2015. Het werk fungeerde als muzikale uiting in de expositie van kunsterares Fiona Tan waarin de strijd tegen de walvisvaart werd aangekaart. Tegelijkertijd is er een persoonlijk verdriet in verwerkt. Het is een lamento waarin de zee, het uitkijken over de zee, een belangrijke rol speelt. Abîme des oiseaux uit het Quatuor pour la fin du temps van Olivier Messiaen (F) is een van de belangrijkste werken uit de 20e eeuw voor klarinet, met als thema de ondoorgrondelijkheid van de vogels. Het stuk is deels désolé (troosteloos) en deels bewegelijk waarin de vogels duidelijk van zich laten horen. Ik heb ervoor gekozen het op de sonore, maar toch slanke en beweeglijke bassethoorn te spelen. Cirrus Light van Jonathan Harvey (UK) is gecomponeerd in de laatste zomer van Harvey's leven. Hij zat in zijn rolstoel en keek naar de luchten waar wolken als slierten hoog en traag voorbij dreven. Dit zijn de cirruswolken met ijskristallen. Beide zijn duidelijk verklankt. In Oi Kuu van Kaija Saariaho (FI) zijn andere nevels en wolken te horen, misschien wel nevels voor de maan. De flageoletten van de cello en de multiphonics van de  basklarinet zijn verweven in dit duo getiteld 'oh maan'. Façade-Trio van George Aperghis (F) is niet eerder buiten Frankrijk uitgevoerd of opgenomen. Het is een theatraal werk waarin de instrumentalisten in een driehoek zitten. Het slagwerk in het midden met twee kickdrums, links en rechts geflankeerd door basklarinetten. Ze verhouden zich tot elkaar zoals sterren in een sterrenbeeld. De klanken gaan voor de basklarinetten van de laagste noot tot ongewone hoogte. De tekstuur is soms zo dicht als de melkweg..
Ten slotte de bonus track Mankind ReMix die Michael Finnissy (UK) voor mij componeerde in augustus 2020. De compositie is muzikaal verbonden met het werk dat hij in 2018 componeerde in opdracht van het Basklarinet Festijn Tussen Rede en Gevoel. Finnissy over de solo: "it's about human nature, and mankind as cultivator of Nature".
Fie Schouten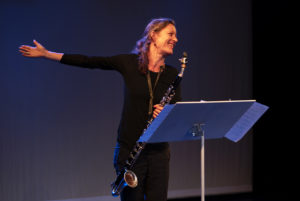 credits:
recording Arjan van Asselt track 4,5; Andreas Fröba track 1,2,3,6
Orgelpark Amsterdam, The Netherlands track 4,5
& SBA+C, Italy track 1,2,3,6
recorded in September 2020
editing, mixing and mastering Arjan van Asselt
photos Andreas Fröba
portrait photo Fie Schouten Elisabeth Melchior
artwork Liluc design
idea & realisation Fie Schouten
supported by Sena
Nature (2020)
Chamber music for (bass) clarinet
Musicians: Fie Schouten bass clarinet, clarinet, bassethorn
Jelte Althuis bass clarinet, Tatiana Koleva percussion, Eva van de Poll violoncello
Music by Calliope Tsoupaki, Olivier Messiaen, Jonathan Harvey, Kaija Saariaho, Georges Aperghis, Michael Finnissy
Label: SOL Classics (SOL 010)
Nature continues to excite the passions of some human beings.
Composers have often responded to its colourful sound-palette.
The compositions on this CD belong together since each work is inspired by nature or natural phenomena. Each track on this CD guides the eye upwards: from the sea (Tsoupaki), to the birds in the sky (Messiaen), to the cirrus clouds (Harvey), to the moon (Saariaho) and finally to the stars (Aperghis).
1 Calling (2015) – Calliope Tsoupaki
Fie Schouten bass clarinet
2 Abîme des oiseaux (1940) – Olivier Messiaen
Fie Schouten bassethorn
3 Cirrus Light (2012) – Jonathan Harvey
Fie Schouten clarinet
4 Oi Kuu (1990) – Kaija Saariaho
Fie Schouten bass clarinet, Eva van de Poll violoncello
5 Façade-Trio (1998) – Georges Aperghis
Fie Schouten, Jelte Althuis bass clarinet, Tatiana Koleva percussion
6 Mankind ReMix (2020) – Michael Finnissy
Fie Schouten – bass clarinet
Order CD? send an email to info@bassclarinet.nl
€15 excl shippingcosts, pay via banktransfer or via my paypal-account
Buy download or listen via Bandcamp

Borrow (in NL only) via Muziekweb
Reactions/reviews:
Calliope Tsoupaki: you create a magical space with your sound, almost plastic, tangible and sensual
Anna Harvey (daughter of Jonathan Harvey): you have really captured that spacious, other-worldly quality which I love about this piece
Georges Aperghis: "..c'est un grand plaisir de vous écouter la (Façade-Trio) jouer…"
Vanessa Davis (The Clarinet, USA) aug21: The diversity of works presented combined with Schouten's expert performance on bass clarinet, basset horn and soprano clarinet make this album is a must-listen for all connoisseurs of low clarinet and its music… Schouten's ability to use timbral definition to highlight the growth of intensity in repeated passages creates a sense of movement much like floating…We hear Schouten and Althuis bringing life to this intense and emotional conversation between two bass clarinets. read all
Thea Derks: great performance & recording technique
TheWholeNote (Max Christie) febr21: Fie Schouten makes the bass clarinet ring with a gorgeous sound….Messiaen.. at a perfect fourth below the original pitch, desolation is powerfully rendered by the lower voice…Saariaho.. beautifull…Aperghis…stunning… sounds like a dialogue of mad twins..Finnissy…right in Schouten's wheelhouse: singing tone and powerful expression." read all
Klassikraadio Tallinn, Estland 1.6.2021 link interview+fragment

Calling was composed by Calliope Tsoupaki (NL/GR) for me in 2015. The work is a musical expression of  the fight against whaling in the exhibition of visual artist Fiona Tan. It is a lamento in which the sea, looking out over the ocean, plays an important role and personal sadness is expressed as well. Abîme des oiseaux from the Quatuor pour la fin du temps by Olivier Messiaen (F) is one of the most important works from the 20th century for clarinet, dealing with the inscrutability of birds. The piece is partly désolé (disconsolate) and sometimes agile, in which the birds clearly make themselves heard. I have chosen to play it on the sonorous, yet slender and flexible basset horn. Cirrus Light by Jonathan Harvey (UK) was composed during the last summer of Harvey's life. He sat in his wheelchair and watched the skies with drifting stringy clouds, high and slow. These cirrus clouds with icy crystals, are clearly expressed in the music. In Oi Kuu by Kaija Saariaho (FI) other nebulae and clouds can be heard, perhaps nebulae of the moon. The flageolets of the cello and the multiphonics of the bass clarinet are interwoven in the duo entitled 'oh moon'. Façade-Trio by George Aperghis (F) has not been recorded nor performed outside France before. It is a theatrical work in which the instrumentalists sit in a triangle. The percussion placed in the middle with two kick drums, left and right, flanked by bass clarinets. They relate to each other like stars in a constellation. For the bass clarinets the sounds go from the lowest note to unusual heights. The textures are sometimes as dense as the Milky Way…
Finally, the bonus track Mankind ReMix that Michael Finnissy (UK) composed for me in August 2020. The composition is musically linked to the work he composed in 2018, commissioned by the Basklarinet Festijn Tussen Rede en Gevoel. Finnissy's comment on the solo: "it's about human nature, and mankind as cultivator of Nature".
Fie Schouten
English translation thanks to Gudrun Klein, Sonja Heimann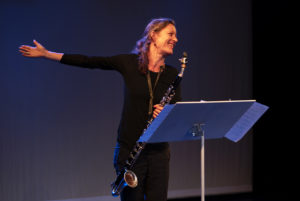 credits:
recording Arjan van Asselt track 4,5; Andreas Fröba track 1,2,3,6
Orgelpark Amsterdam, The Netherlands track 4,5
& SBA+C, Italy track 1,2,3,6
recorded in September 2020
editing, mixing and mastering Arjan van Asselt
photos Andreas Fröba
portrait photo Fie Schouten Elisabeth Melchior
artwork Liluc design
idea & realisation Fie Schouten
supported by Sena