HETK [moment]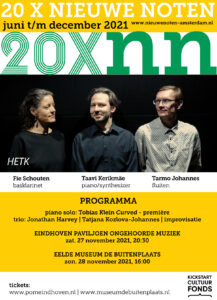 Tarmo Johannes – fluit
Fie Schouten – (bas) klarinet
Taavi Kerikmäe – piano
www.hetk.nu
Dit trio speelde een keer in 2002 samen en pakte het weer op in 2018. Tarmo en Fie studeerden tegelijk in Amsterdam en Tarmo en Taavi, beide uit Tallinn, werken al sinds 20 jaar samen. Zij maken een keus uit repertoire dat er voor hun bezetting bestaat, laten weer nieuw werk voor hen schrijven en ontwikkelen eigen materiaal.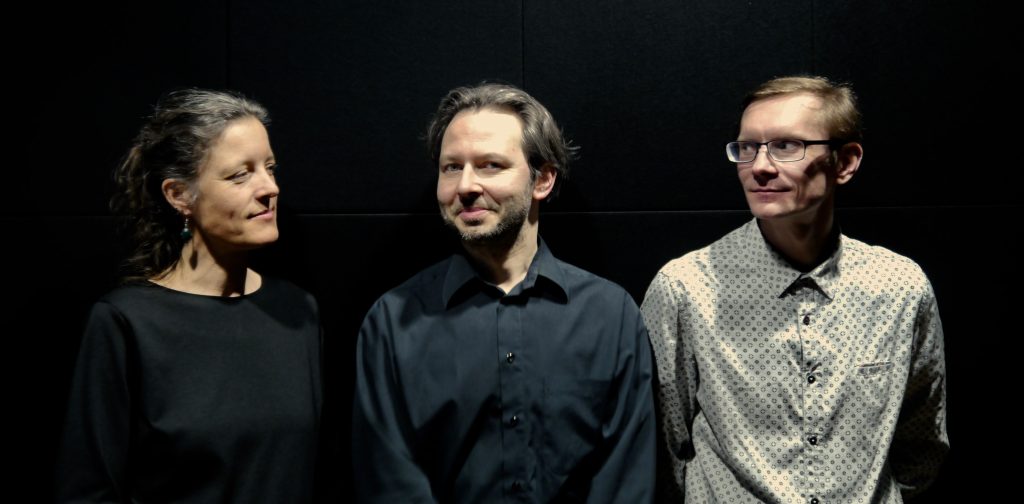 2021
27 nov 2021 20:30 concert Series 20XNN, POM, Eindhoven (NL) info
28 nov 2021 16:00 concert Series 20XNN, Museum de Buitenplaats, Eelde (NL) info
18 dec 2021 21:00 concert Festival Nuova Consonanza, Rome (Italy) info & tickets
GEWEEST:
18 may 2021 online concert in Baltic/Estionian Music Days, Tallinn (Estonia)
compositions by Justina Repečkaitė (solo bass flute)
Tatjana Kozlova-Johannes To sing a song before the night comes (2020)
premiere and dedicated to HETK
Santa Bušs (solo bass clarinet)
Jonathan Harvey The Riot (1993)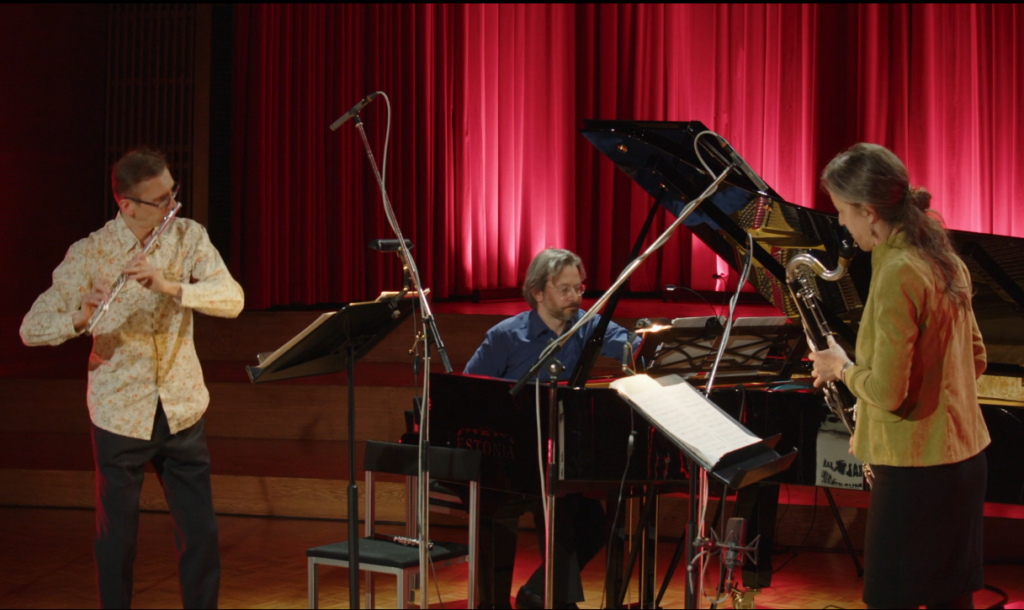 2019
27 febr 2019 @ Prins Claus Conservatoire Groningen (NL)
Programma:
Jonathan Harvey The Riot (1993)
Paolo Perezzani Il volto della notte
Tobias Klein Bogus Bogey
Improvisatie
2018
The trio recorded Bogus Bogey (2005) by Tobias Klein
CD Chambery (2018, ATTACCA)

Reviews:
The Whole Note (Toronto, Canada) febr 2019
"…Bogus Bogey, a trio with piano and flute (2005), …. it's just pretty cool..Extremely well played, Ms. Schouten et al.'
The Clarinet (International Clarinet Association USA), Spencer Prewitt dec 2019
'……..The ensemble work from all involved is jaw-droppingly clean and leaves nothing to be desired…..'
2002
Estonian Music Days, Tallinn, Estonia
Lepo Sumera Scenario (1995) fl, bcl, piano
CV
Taavi Kerikmäe is an improviser and performer (piano) and composer of contemporary and electro-acoustic music. He has given concerts in most European countries, the USA, Brazil, Mexico, Greenland, South Korea and Thailand. He is a member of Ansambel U:, Punkt Nihu, ASK:, Broken Time Orchestra, Eesti Elekter, and MiaMee.
When it comes to contemporary music he often collaborates with the flutist Camilla Hoitenga. When improvising he has performed with artists like Chris Cutler, Fred Frith, Michel Doneda, Jacques Di Donato, Mart Soo, Isabelle Duthoit, Eric Echampard, Uchihashi Kazuhisa, Paul Lovens, the European Improvisers Orchestra etc. He has worked with composers such as Pierre Boulez, Tristan Murail, Kaija Saariaho, Vinko Globokar and others. Together with the guitarist Mart Soo he curates the series of free improvising events IMPROTEST.
He is head of Contemporary Performance and Composition at the Estonian Academy of Music and Theatre in Tallinn.
Tarmo Johannes is an Estonian flutist dedicated primarily to performing contemporary music. He is founder and leader of ensembles U: (flute-clarinet-violin-cello-piano www.uuu.ee) and Resonabilis (voice-flute-cello-kannel) and has played a number of concerts of solo flute repertoire with great success. Next to countless concerts in Estonia, he has performed in Finland, Russia, Denmark, Sweden, Germany, United Kingdom, Romania, Spain, Iran, USA.
Tarmo Johannes studied flute at the Estonian Academy of Music and completed his Post Graduate Course at the Conservatory of Amsterdam with Harrie Starreveld. He got his PhD at the Estonian Academy of Music and Theatre (2001–2005) on Italian contemporary flute music.
He is teaching contemporary chambermusic at the Estonian Academy of Music and Theatre in Tallinn.
The Dutch clarinettist Fie Schouten is an Amsterdam based specialist in the performance of new music with a preference for playing on the low clarinets. Schouten can be heard extensively as a soloist and with her own ensembles. She has had around 100 pieces written for her, which she has premiered in various formations.
Fie Schouten is Artistic Director of a bass clarinet festival titled 'Basklarinet Festijn' that will have its 4th edition in 2020. In 2015  Dutch Donemus Publishing published her album of bass clarinet miniatures. Since 2008 she has been one of the Stockhausen-soloists performing many works by Karlheinz Stockhausen with renowned ensembles. Schouten has been the recipient of competition prizes (Gaudeamus, Illzach, Tera de Marez Oyens) and produced five CDs under her own name. She studied clarinet and bass clarinet at the Amsterdam Conservatoire and cites Harry Sparnaay as her most important teacher.
Schouten is Professor of Bass Clarinet at the Prince Claus Conservatoire Groningen.