Duo Fie Schouten (clarinets) & Goska Isphording (harpsichord)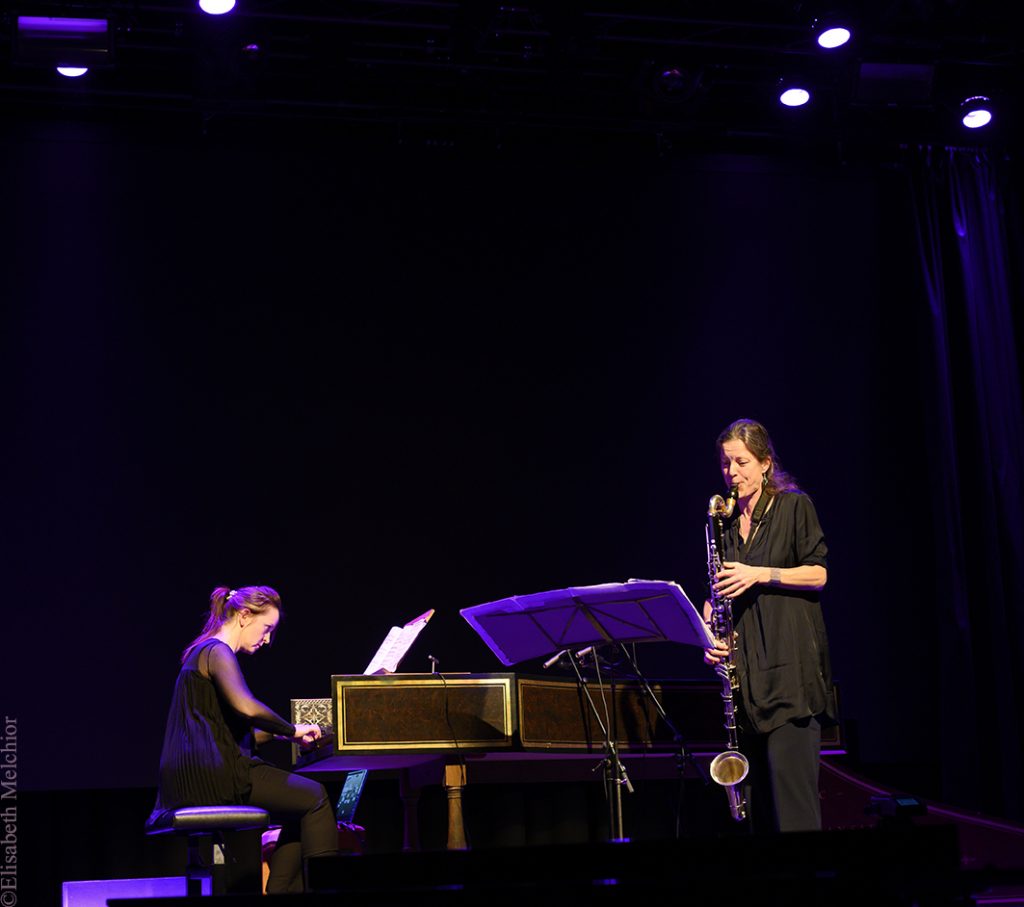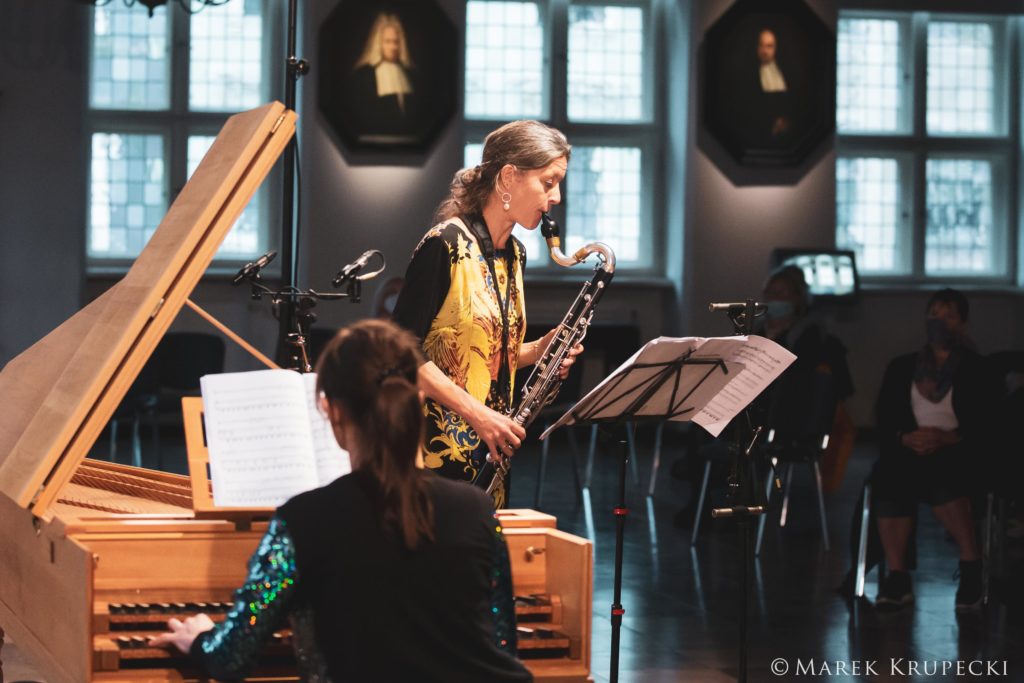 2023
Premiere duo van Héctor Moro voor clavecimbel en bassethoorn
2022

Dualisme (2020) – Artur Kroschel
dedicated to Schouten & Isphording
CD figures (2022) Trytone TT0559-093
2020
Fie Schouten & Goska Isphording (harpsichord) in Poland, Torun (26.9.2020)
Music by Joe Culter, Chiel Vleggaar, Arthur Kroschel, Tobias Klein
2018
Kengboginn (2014) – Tobias Klein
dedicated to Fie Schouten & Goska Isphording
CD Chambery (2018) ATTACCA 2018.156
Magazine The Clarinet (International Clarinet Association USA), Spencer Prewitt dec 2019:
'Kengboginn is a duet for bass clarinet and harpsichord and is thoroughly and delightfully weird. The combination compliments itself exceedingly well, due in no small part to Schouten's magnificent bass clarinet playing, which is so agile that any potential balance or color problems are totally nonexistent. Schouten and harpsichordist Goska Isphording expertly navigate the weaving in and out of synchronicity, both in terms of rhythm and tonal language.'
2017 De Ruimte Amsterdam-noord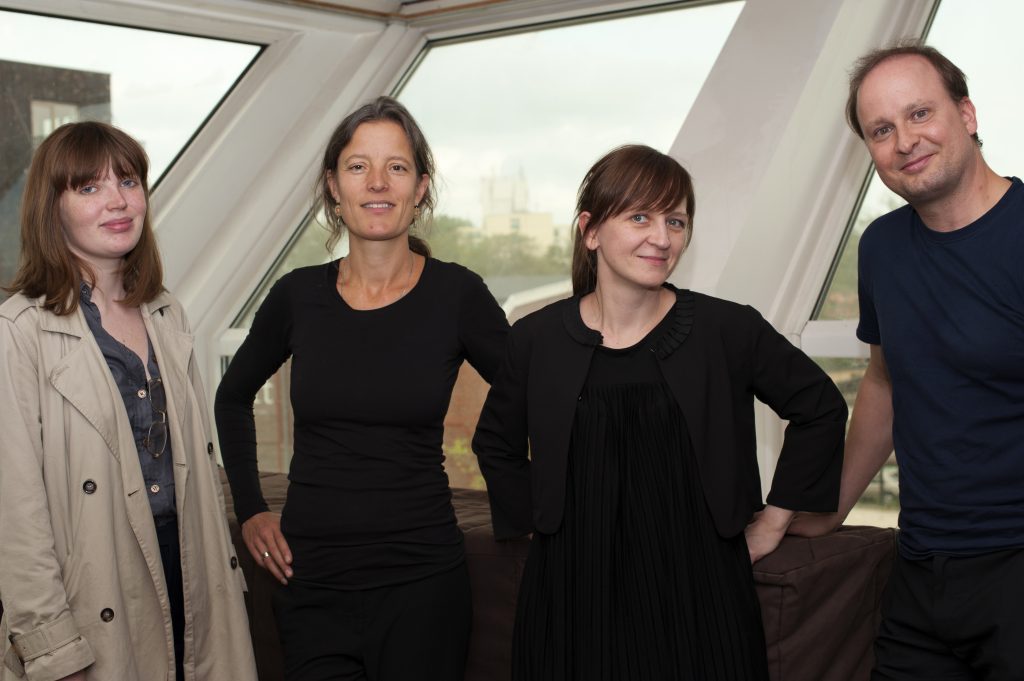 2012
At Festival International de Música Contemporánea de Lima, Peru
oct 2012 masterclasses + concert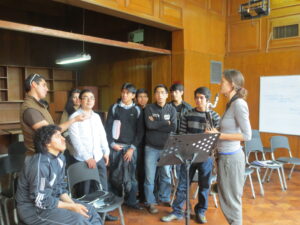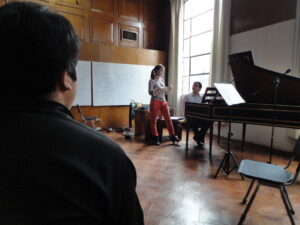 2006
Festival Klangzeit Münster, D & November Music Festival Den Bosch, NL
Fie Schouten and Goska Isphording are working together since 2003.
CV's
Harpsichordist Goska Isphording is one of the most exciting performers in her field. Specializing in contemporary music on historical instruments, she is not only active as a soloist and chamber musician, but also presents the contemporary harpsichord to audiences and composers around the world through close collaborations, lectures and masterclasses.
Goska has performed at most prestigious festivals and concert halls. Her solo appearances include Gaudeamus Music Week or November Music, and more recently Warsaw Autumn Festival, Gaida Festival, ISCM World Music Days and Huddersfield Contemporary Music Festival.
Pan-European appearances have brought Goska to the attention of a variety of composers, and her inimitable approach to the harpsichord has earned numerous dedications and commissions. Goska has premiered over a hundred solo and chamber music compositions and is an addressee of harpsichord concerti by Hanna Kulenty, Roderik de Man or Andrzej Kwiecinski. A passion for the careful interplay of apparently disparate forms has led Goska to co-found The Roentgen Connection. She is also a member of The Riot Ensemble in London and has collaborated with ensembles like Asko|Schönberg, Insomnio Ensemble, Musikfabrik or Sinfonia Varsovia.
She currently teaches contemporary harpsichord techniques at the Conservatorium van Amsterdam.
www.goskaisphording.com
The Dutch clarinettist Fie Schouten is an Amsterdam based specialist in the performance of new music with a preference for playing on the low clarinets. Schouten can be heard extensively as a soloist and with her own ensembles. She has had around 100 pieces written for her, which she has premiered in various formations. She is collaborates since 2008 regularely with the German Ensemble Musikfabrik.
Fie Schouten is Artistic Director of a bass clarinet festival titled 'Basklarinet Festijn' that had since 2014 four editions. In 2015 Dutch Donemus Publishing published her album of bass clarinet miniatures. Since 2008 she has been one of the Stockhausen-soloists performing many works by Karlheinz Stockhausen with renowned ensembles. Schouten has been the recipient of competition prizes (Gaudeamus, Illzach, Tera de Marez Oyens) and produced twelve CDs under her own name.
She is Professor of Bass Clarinet and Contemporary Clarinet at the Prince Claus Conservatoire Groningen.