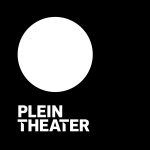 concertserie voor hedendaagse kamermuziek
uitgevoerd door specialisten, composities vanuit de hele wereld
nieuwe ideeën in klank en woord; musici, kunstenaars van andere disciplines en wetenschappers staan op ons podium
www.nieuwenoten-amsterdam.nl | email: nieuwenoten-amsterdam
Geprogrammeerd door Fie Schouten & Aspasia Nasopoulou
ontvang de nieuwsbrief volg ons op
facebook | twitter | youtube | instagram
seizoen 2019/2020 –  10 concerten

KOMENDE CONCERTEN:
#4 – 8 dec 2019 15:00-17:00 – Virtuozen op de toetsen @ Q-Factory tickets
Claveciniste Goska Isphording en pianiste Pauline Post, presenteren nieuw werk en gaan in gesprek met componist, schrijver Klaas ten Holt. De Pools-Nederlandse Isphording neemt een tip van de sluier over wat 15 jaar EU-lidmaatschap met de Poolse kunstscene doet.
•Clavecimbel & electronics:
premieres van 'howto jouïssance' (2019)  Nina Fukuoka (PL) en 'Imprints' (2019) Kuba Krzewinski (PL).
•Piano solo: premiere pianosolo (2019) van Tobias Klein, Shiraz (1977) van Claude Vivier.
•Duo Kengboginn (2014) van Tobias Klein voor clavecimbel & basklarinet (Fie Schouten)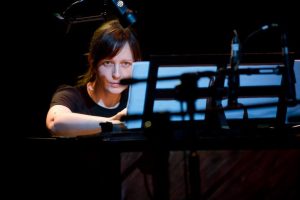 3 premieres van Nina Fukuoka, Tobias Klein, Kuba Krzewiński:
(de componisten zijn aanwezig op 8 december)
Nina Fukuoka graduated from the Grazyna and Kiejstut Bacewicz Academy of Music in Lodz, Poland and the Royal Conservatory of Brussels, Belgium. She is currently pursuing a doctorate in Music Composition at Columbia University in New York. Nina's works have been premiered at numerous festivals and venues in Europe, North America, and Japan. She has collaborated with many new music ensembles from Europe as well as film makers and choreographers. Her works inhabit a number of contemporary and experimental settings such as video scores and performance pieces with multimedia and live electronics, as well as orchestra and ensemble works. With an international upbringing and as a result of being exposed to different cultural perspectives, Nina's focuses center on intricacies of the modern reality and the Internet. In her works, she explores possibilities of communicating through music and other contemporary media by superimposing latent meanings with distinct images, within the context of tradition and mass culture.
Kuba Krzewiński – b. 1988 composer, sound installation artist, based in Berlin. He studied composition in Lodz, The Hague and Dresden, i.e. with Zygmunt Krauze, Yannis Kyriakides, Mayke Nas, Manos Tsangaris and Mark Andre. In his recent works (performances, pieces, installations) he focuses on the sense of touch: as a means of social communication, as a subconscious atavistic need, as an alternative for overloaded with visual information occulocentric world.
His pieces and installations have been shown on many festivals in Poland, Belgium, Netherlands, Portugal, Germany and China. He received various scholarships and prizes, i.a.: Förderpreis für junge Komponisten from the Saxony Composers Union. In 2018 he was nominated as one of the 10 most promising young polish composers by Culture.pl. In 2019 a DVD with his recent chamber pieces was published in Bôłt Records in Poland.
Tickets Nieuwe Noten Amsterdam: € 16 /€ 14 CJP / Student / Stadspas / 65 + / € 8 Kunst(vak) student
wo. 2 okt tussen 15:00-16:00 te gast bij Radio Concertzender

Curator Fie Schouten ontving de Fair Practice Award 2019 Nieuw Geneco van
zo. 25 aug tussen 23:00-24:00 zijn we te gast bij Radio4

NRC Joep Christenhusz 31 juli '19 steeds vaker organiseren musici hun eigen festivals en concertseries…. lees verder
#5 – 12 jan 2020 15:00-17:00 – Vincent van Amsterdam, James Oesi tickets
Jonge spelers (accordeon en contrabas) brengen werk van jonge componisten en componist Danny de Graan ondervraagt hen: wat brengen generatiegenoten over 15 jaar?


#6 – 9 febr 2020 15:00-17:00 – Etienne Nillesen, Duo Bilitis tickets
Duo Bilitis (Ekaterina Levental, Eva Tebbe) speelt 'Grotesque creatures', een projekt van CoCoA | collectief  Co-Composing Amsterdam
zeven componisten, drie bizarre wezens en twee zingende harpistes
Etienne Nilissen komt met alleen een snaredrum..
En iemand stelt de vraag: welke diersoorten en planten staan op het punt van uitsterven?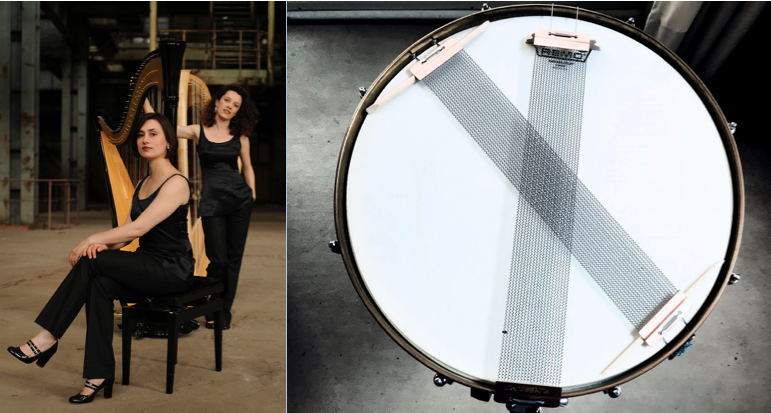 #7 –  1 maart 2020 15:00-15:45 – Verrassingsconcert tickets
Presentatieconcert van Composer's Treat. De gastcomponist 2020 van de Composer's Treat is de Iraanse Fojan Gharibnejad. Meer informatie over haar en dit project: Cultureland.
Musici: Amici trio, Michela Amici (harp), Louis der Mespel (contrabas), Antoine Josselin (percussie). Premières van Fojan Gharibnejad en Maria Rostovtseva (Estland). De spreker deze middag is regisseur Miranda Lakerveld.
#8 – 5 april 2020 15:00-15:45 – Verrassingsconcert tickets
Huib Ramaer, musicoloog, is spreker en welke inspirerende musicus we uitnodigen blijft nog even een verrassing.
Na ieder verrassingsconcert (45 minuten) is er ruimte voor een gesprek curatoren van de serie en de musici/sprekers in het Eetlokaal!
#9 – 10 mei 2020 15:00-17:00 Bram van Sambeek & Marijn Korff de Gidts, Elmo Vermijs tickets
Fagot en percussie, nieuw gecomponeerd en muziek gebaseerd op volksmuziek.
De spreker is architect, ontwerper, onderzoeker Elmo Vermijs.
#10 – 14 juni 2020 15:00-17:00 – Rebecca Saunders & Andrea Voets tickets
Muziekfilosoof en spreker van zes talen, Andrea Voets, gaat in gesprek met de vier musici hoe zij communiceren – allen met een andere nationaliteit en in een ongewone instrumentale bezetting.
Fie Schouten (b)klar Nederlandse, Marko Kassl acc Oostenrijker met Sloveens als moedertaal, Keiko Shichijo pf Japanse en de Spaanse Beltane Ruiz Molina cb spelen Quartet (1998) van Saunders (UK). Dit werk begint met vier karakters die zich tegen elkaar lijken op te bieden en na een tijd, vermoeienis?, dringt de drang naar harmonie naar voren…
GEWEEST:
#3 – 10 nov 2019 15:00-15:45 – Verrassingsconcert
Gita Hacham (spreker, dichter) & acteur Bruno Allain met Interstices (2019) van componist Simon Burgers
Interstices (tussenruimtes) van Simon Burgers is een overrompelend stuk voor gesproken stem, omgeven door muziek. De thematiek van de tekst is de impact van de hedendaagse samenleving op het individu en de (on)mogelijkheid daaraan te ontsnappen. De elektronische muziek levert commentaar. Gromt, kreunt, fluistert en brult in een eigentijdse klankwereld.
Bruno Allain is beeldend kunstenaar, acteur en schrijver. Hij werkt en woont in Parijs. Simon Burgers is een Nederlandse componist van onder meer orkestwerken, kamermuziek, film- en toneelmuziek en elektronisch werk. Interstices is het resultaat van een intensieve samenwerking tussen deze twee.
#2 – 6 okt 2019 15:00-17:00 – Solisten van toonaangevende Europese ensembles
Fagottist Johannes Schwarz, lid van Ensemble Modern Frankfurt, en hoboist Peter Veale, lid van Musikfabrik Keulen, komen met solorepertoire en gaan in gesprek met jazzjournalist Henning Bolte over de programmering van hun ensemble en het aandeel met jazzinvloeden.
•Hobo solo: Malika Kishino: Naki ryu (2019), Liza Lim: Gyfu (2007)
Componist Malika Kishino is aanwezig!
•Fagot solo: Enno Poppe: Holz (1999/2005), Pierluigi Billone: Edre 2 (2003)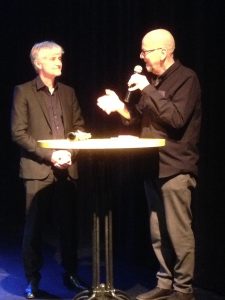 Fragmenten van het concert:

#1 – 1 sept 2019 15:00-15:45 – Verrassingsconcert
Salim Javaid – saxofoon solo
Georges Aperghis – P.S., Mark Andre – iv 12, Georges Aperghis – Alter Ego
& Roel Simons, filmmaker die onderwerpen aansnijdt op de gebieden van stedelijke ontwikkeling, sociale ontwikkelingen, diversiteit, onderwijs
Hier Javaid (links) en Simons in gesprek over hun verschillen en overeenkomsten in het vertellen van een verhaal.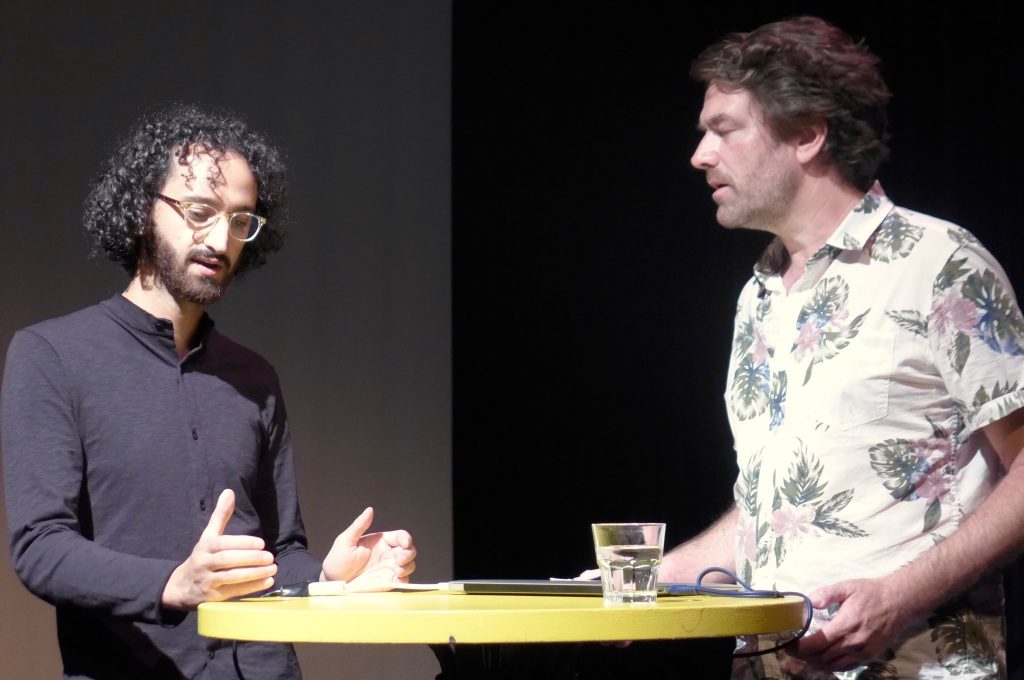 Met dank aan Prins Bernhard Cultuurfonds (NH) en AFK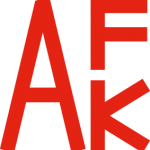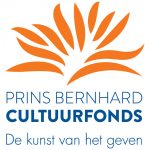 Het openingsconcert van 22 juni 2019, 16:00 weerspiegelde waar de serie voor staat: nieuwe ideeën in klank en woord.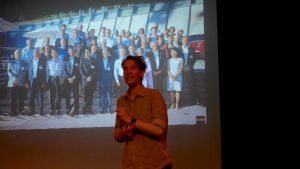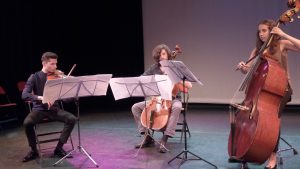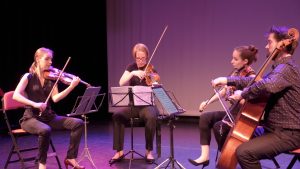 1) Het eerste deel van het concert is de interactieve lezing door componist Merlijn Twaalfhoven.
Praktisch Heldendom voor ieder van ons, de rol van schoonheid, verbeeldingskracht en spel bij de aanpak van wereldproblemen en de rol van kunstenaars. Samen met de aanwezigen vraagt hij zich af hoe we nieuwe helden kunnen vinden in deze tijd van klimaatverval, kunstmatige intelligentie en toenemende polarisatie. Merlijn was te gast in Composer's Treat residency 2019, wat onderdeel is van Cultureland in de locatie Buitenwerkplaats. Het resultaat van deze week deelt hij met het publiek door niet alleen te vertellen, maar ook de aanwezigen een ervaring mee te geven.
2) Masterstudenten Conservatorium van Amsterdam
Marta Fossas Mallorquí (cb), José Nunes (vla), Pau Sola Masafrets (vlc)
If the river was whisky (2007) – Max Knigge (1984)
3) Dudok (String)Quartet
Strijkkwartet nr 1 'Carillon' (1933) – Karl Amadeus Hartmann (1905-1963)
Strijkkwartet nr 1 ' Métamorphoses nocturnes' (1954) – György Ligeti (1923-2006)
Met dank aan Plein Theater, Cultureland, Composer's Treat
Nieuwe Noten Amsterdam naar Plein Theater Amsterdam >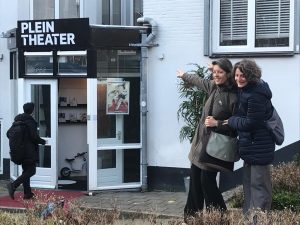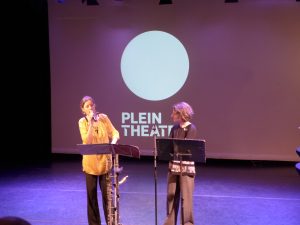 GEWEEST:
7 april 2019 15:00 @ De Ruimte, Amsterdam-Noord info & route
Sigurd Hole (double bass) – solo repertoire
Björk Níelsdóttir (soprano) what? – Anthony Leigh Dunstan
& masterstudents of Conservatory of Amsterdam:
Michele Mazzini (clarinets) – Scelsi & own piece
Jaume Dabra Fa & Rocío Palma (flutes) – duo by Nuno Lobo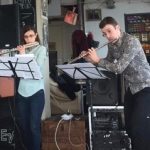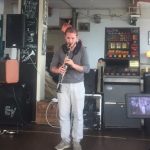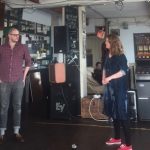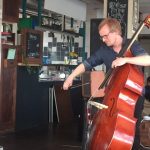 6 sept 2018 20:30 Oguz Büyükberber bcl & friends in De Ruimte
Seizoen 17/18 in De Ruimte en De Roode Bioscoop:
de concerten in 17/18 vonden plaats met ondersteuning van het Amsterdams Fonds voor de Kunst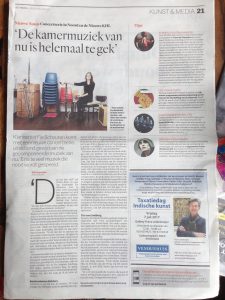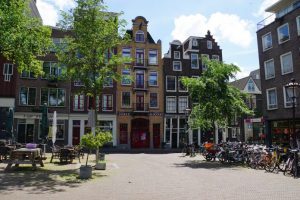 Interview door Aad van Nieuwkerk met Fie Schouten kijk/luister

3 juni 2018 16:00 TRIO ARTI @ De Roode Bioscoop
Fie Schouten (baskl), Eva van de Poll (vlc), Keiko Shichijo (piano)
Isang Yun – trio Rencontre
Wolfgang Rihm – trio Chiffre IVa
Helmut Oehring – trio Leuchter
Vanessa Lann – trio Dan neem ik een bloemkool
Stockhausen – solo In Freundschaft
Poëzie van Froukje van der Ploeg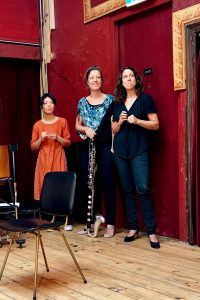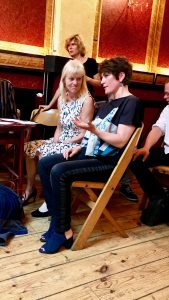 20 may 2018 14:30 Composer's Treat 2018: Jasna Velickovic @ De Ruimte
Marijn Korff de Gidts – percussie, Jasna Velickovic – composition & velicon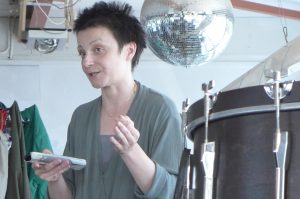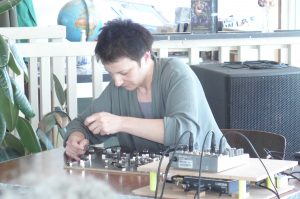 18 mrt 2018 15:00 Dare to fly  @ De Ruimte
Sabien Canton (harp)
Stefanie Liedtke (fagot, blokfluit)
Dan Weinstein (cello), Ilya Ziblat (electronics)
Poëzie van Frank Starik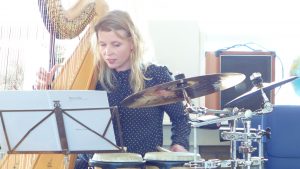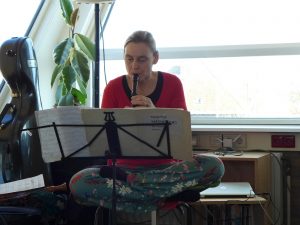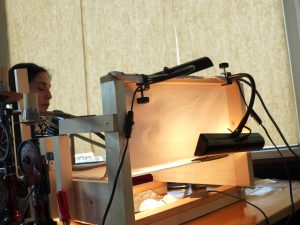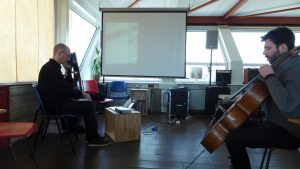 Muziek:
Dare to fly (PREMIERE!) – Hawar Tawfiq
harp solo
Monologue en uit Chinesische Bilder – Isang Yun
fagot solo, blokfluit solo
PREMIERE – Ilya Ziblat
cello & electronics

11 febr 2018 16:00 FLUITEN @ De Roode Bioscoop
Ilonka Kolthof piccolo, Ned McGowan cbass flute, Anne Veinberg piano
Composities van Piet Swerts, Ned McGowan, Bart Spaan
Poëzie van en door Sasja Janssen (bundel HAPPY)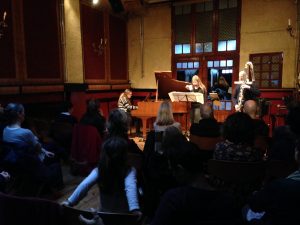 10 dec 2017 15:00 PERCUSSION & (BASS) CLARINETS @ De Ruimte
Andas – Lotta Wennäkoski (2008, 2bcl)
Schlaf – Enno Poppe (2011/2015, 2cbcl)
– Lyrisch Laag Fie Schouten, Jelte Althuis (bass clarinets/ contrabass clarinets)
Poetry by Rozalie Hirs
Liikumatuse dimensioon (2010) – Tatjana Kozlova-Johannes
– Fie Schouten (clar), Ryoko Imai (perc)
>the composer from Estonia was present!
Cheerers and Leaders (2016) – Cathy van Eck (1979)
– Rie Wanatebe (performer)
Poetry by Rozalie Hirs
" Etudes for Improvisors" (2010-2012) – Tomomi Adachi (1972)
-Rie Wanatebe & Ryoko Imai (percussionists-performers)
Improvisation by (bass)clarinetduo Büyükberber-Klein and Wanatebe-Imai
This concert is recorded by the Concertzender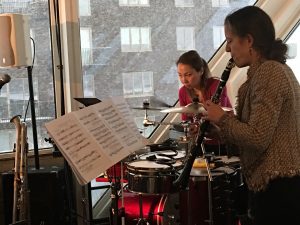 26nov NIEUWE NOTEN 15:00 @ De Ruimte Amsterdam-Nrd entry 3€
Host: Fie Schouten
Composers present: Pieter Smithuijsen, Aspasia Nasopoulou, Cinzia Nistico
Program:
Luciano Berio – Psy

 Pieter Smithuijsen – The Four Temperaments
 Aspasia Nasopoulou – Moriana (premiere)
– Antonis Pratsinakis – cello
Cinzia Nistico – Träumerei (premiere)
– Francesca Clements – basset blokfluit | Jelena Popovic – toy piano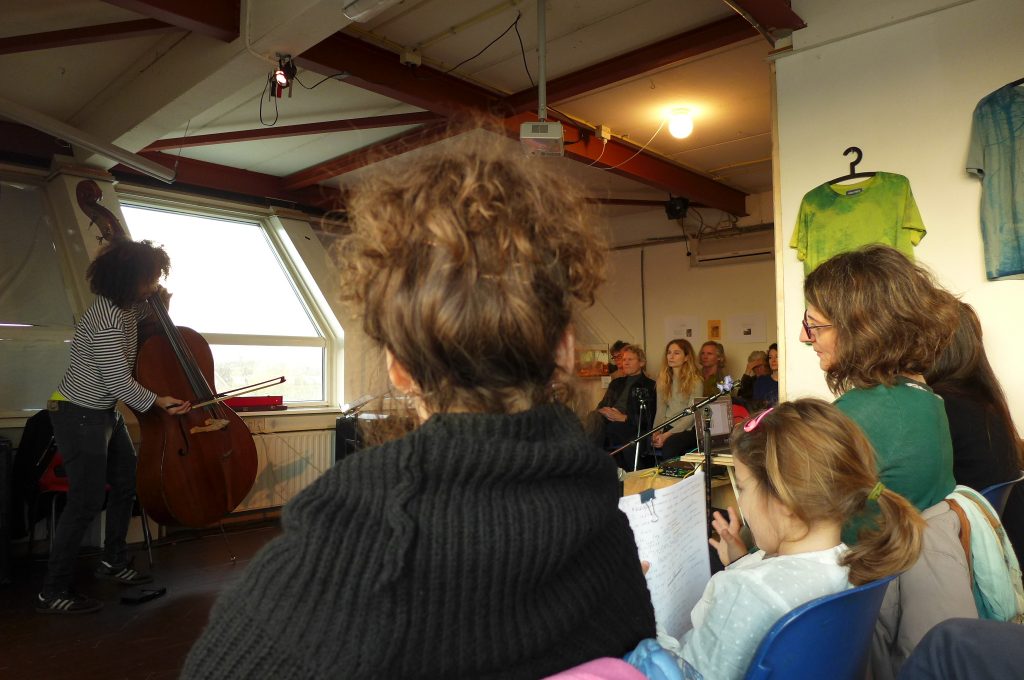 22 oct 2017 15:00 PARTCH – WOLFE @ De Ruimte Amsterdam-Noord
Works from Rose Petal Jam project (Partch)
– Ensemble Scordatura
Julia Wolfe – East Broadway
– Nora Mulder toypiano
Poetry: Joost Baars Binnenplaats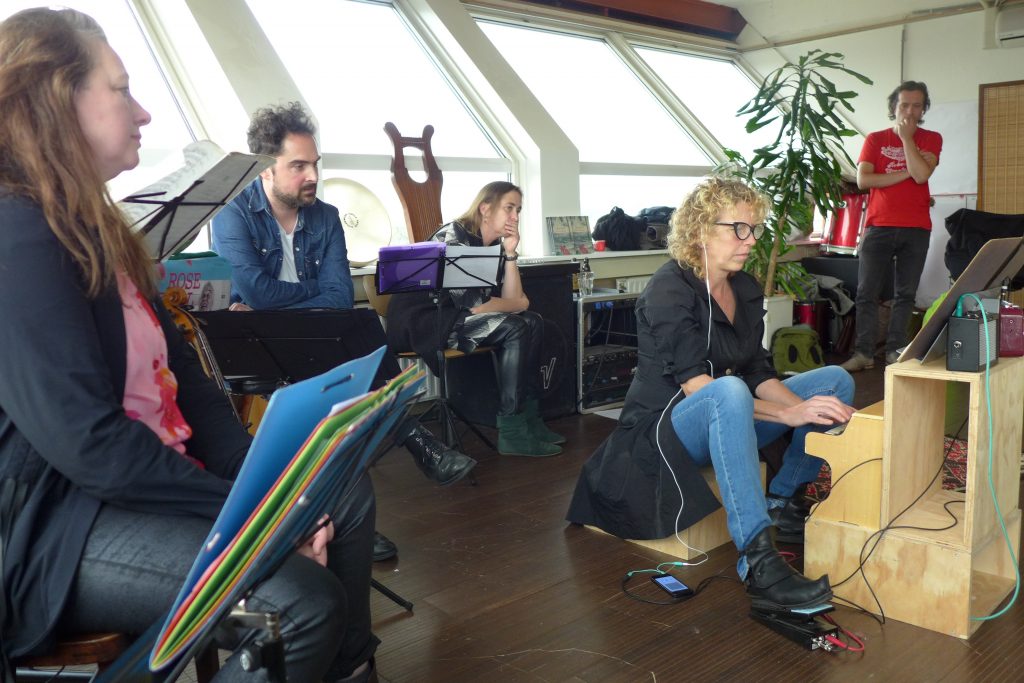 10 sept 2017 15:00 ACCORDEON @ De Ruimte
program:
Aleksandra Gryka ( b. 1977- Polish) – YUOMEC (2006)
Ewa Trebacz ( b.1973 POLISH – American) – Chordochromies (2003)
Ton Bruynel (1934-1998) – Chatarra (1990)
– played by: Goska Ispording – harpsichord solo
Mayako Kubo – Geras
Toshio Hosokawa – In die Tiefe der Zeit
– played by: Fie Schouten (bass) clarinet & Marko Kassl accordeon
Poetry: Hannah van Binsbergen Kwaad Gesternte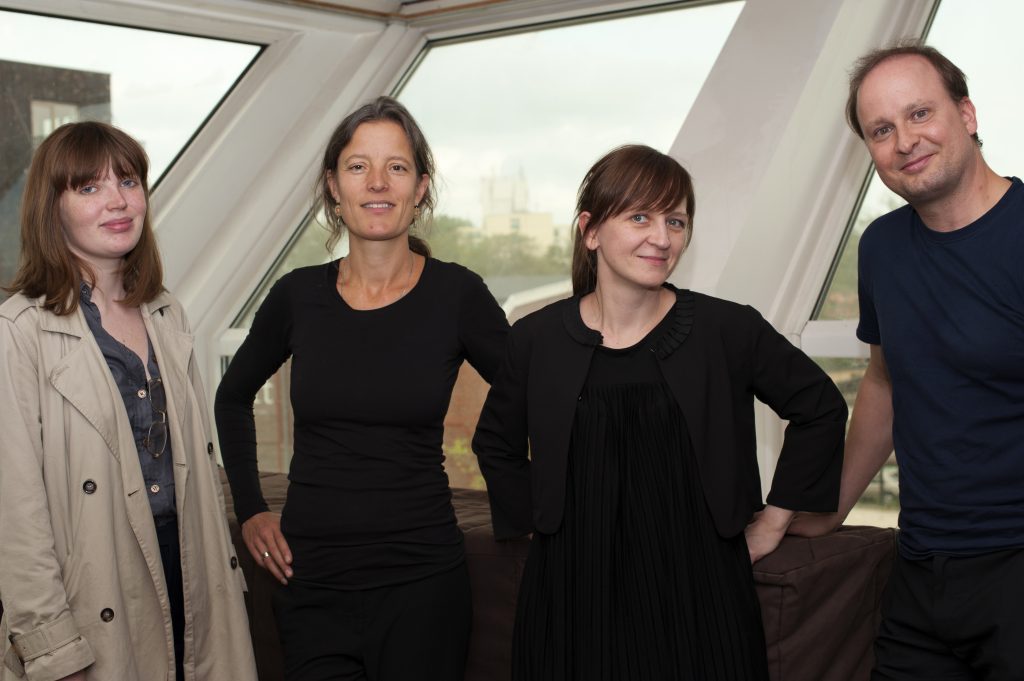 Interview op Concertzender 30aug2017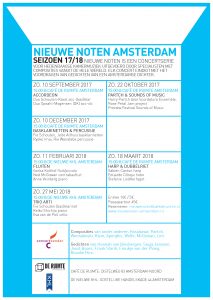 SEIZOEN 16/17

8) sunday 11 june 2017 16:00
Project of Thanasis Deligianis The Moon is Electric
7) sunday 14 may 2017 15:00
Duo Northea​​st: Galit Zadok & Juho Myllylä recorders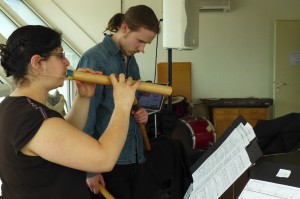 &
Maarten Zaagman percussie
I will carry you over hard times – Falk Hübner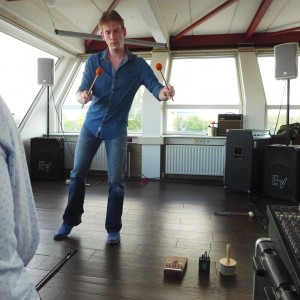 6) wednesday 12 april 2017 20:30
Clarice – music & literature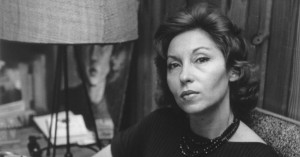 Fie Schouten, Jelte Althuis – clarinet | Giuseppe Doronzo – baritonsax | Ig Henneman – viola | Wilbert de Joode, Florentin Ginot – contrabass
5) saturday 18 march 2017 14:00
Open masterclass by Jelte Althuis on Tsoupaki's quintet Interface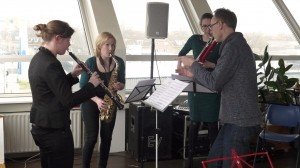 concert:
Reedquintet Interface – Calliope Tsoupaki, performed by students of Prince Claus Conservatoire
Massai – Christian Lauba Femke IJlstra altsax & Fie Schouten bass clarinet

4) sunday 22 january 2017 15:00
Eva & Cecylia
The blend of acoustic guitar and viola with live electronics resulted in a colorful mix of ambient, psychedelic, experimental and hypnotizing sounds.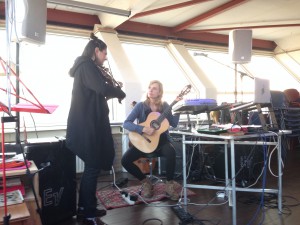 &
Fie Schouten – bass clarinet with premiere of "The first impulse" by Paul Frankhuijzen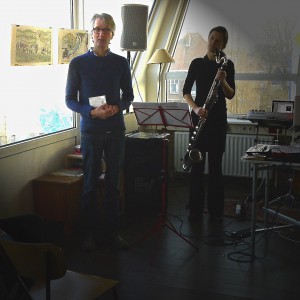 3) sunday 11 december 2016 15:00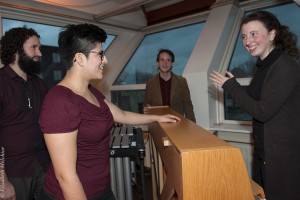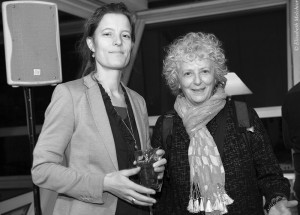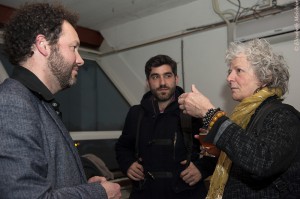 Passepartout Duo (B)
Nicoletta Favari piano | Christopher Salvito percussion
Music: Hannh Lash – C, Nikolai Kapustin – Nearly Waltz, Georges Aperghis – Quatre Pieces Febriles, Nikolai Kapustin – Burlesque, Steve Reich – Quartet
&
Jason Alder bass clarinet & electronics
premiere of Xical by Christina Viola Oorebeek
Patricia Roa Johansen – recorder & electronics
Entanglements – Roderik de Man
2) wednesday 2 november 2016 20:30
Musicians of the Atlas Ensemble:
Zhao Yuanchun (China) Erhu & Harrie Starreveld (Netherlands) Japanese shakuhachi
&
Parish of Tama by Robert van Heumen
Yung-Tuan Ku cement mixer | Leonardo Grimaudo electric bass | Oguz Buyukberber bass clarinet | Robert van Heumen laptop-instrument | Etienne Nillesen drums
1) sunday 2 october 2016 15:00
Kwintet van Martijn Padding door amateurs
repetitie olv Fie Schouten en componist Martijn Padding +presentatie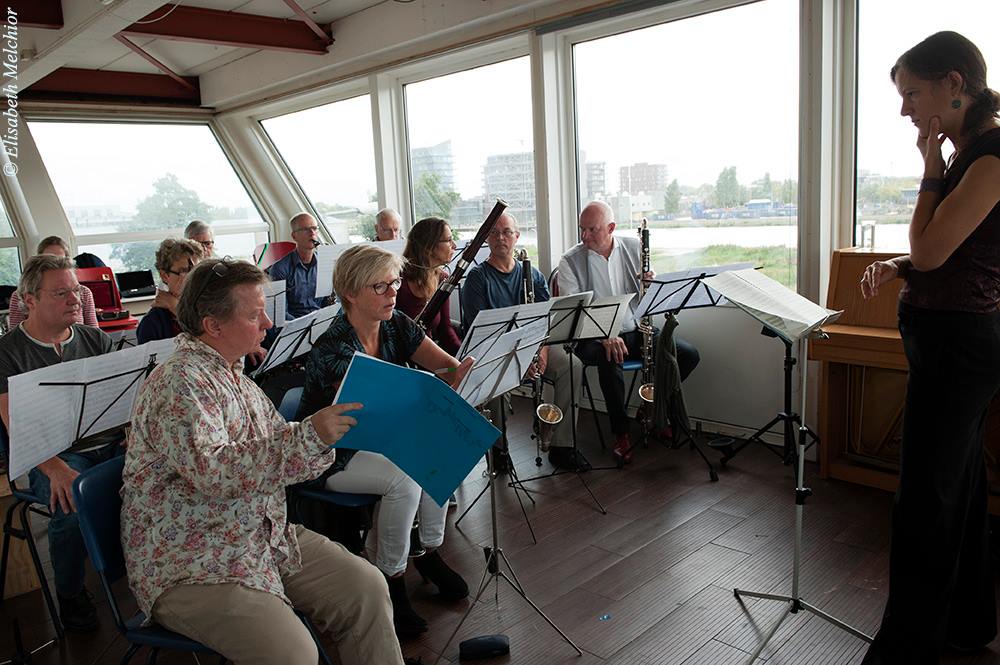 Lyrisch Laag:
Fie Schouten – Jelte Althuis (contra)bass clarinet, Giuseppe Doronzo baritonsax
Enno Poppe – Schlaf | Black – Marc Mellits | improvisation