concertserie voor hedendaagse kamermuziek
uitgevoerd door specialisten, composities vanuit de hele wereld
nieuwe ideeën in klank en woord; musici, kunstenaars van andere disciplines en wetenschappers staan op ons podium
www.nieuwenoten-amsterdam.nl | email: nieuwenoten-amsterdam
Geprogrammeerd door Fie Schouten & Aspasia Nasopoulou
ontvang de nieuwsbrief volg ons op facebook | twitter | youtube
2019
>>Passepartout voor 4 concerten NU te koop! €39,90 info <<
nieuwsbrief 12 augustus lees
zo. 25 aug tussen 23:00-24:00 zijn we te gast bij Radio4
wo. 2 okt tussen 15:00-16:00 zijn we te gast bij de Concertzender
NRC Joep Christenhusz 31 juli '19 steeds vaker organiseren musici hun eigen festivals en concertseries…. lees verder
Call for a program! Stuur ons een voorstel > scroll down, read further under 10.nov
1 september 2019 15:00-15:45 – verrassingsconcert info
Na ieder verrassingsconcert (45 minuten) is er ruimte voor een gesprek met de curatoren van de serie en de musici/sprekers in het Eetlokaal.
Salim Javaid – saxofoon solo
Mark Andre – iv 12, Georges Aperghis – Alter Ego, Georges Aperghis – P.S.
& Roel Simons, filmmaker die onderwerpen aansnijdt op de gebieden van stedelijke ontwikkeling, sociale ontwikkelingen, diversiteit, onderwijs
Simons: 'I am re-reading Martin Bubers' "I and Thou", because it resonates with the way I want to live and work (and so often fail). The invitation for Verrassingsconcert inspired me to reconnect to it.'
"All real living is meeting." ― Martin Buber, I and Thou
Tickets Verrassingsconcerten: € 10 /€ 8 CJP / Student / Stadspas / € 5 Kunst(vak) student
6 oktober 2019 15:00-17:00 – solisten van toonaangevende Europese ensembles info
Fagottist Johannes Schwarz, lid van Ensemble Modern Frankfurt, en hoboist Peter Veale, lid van Musikfabrik Keulen, komen met solorepertoire en gaan in gesprek met jazzjournalist Henning Bolte over de programmering van hun ensemble en het aandeel met jazzinvloeden.
Hobo solo: Malika Kishino: Naki ryu (2019), Liza Lim: Gyfu (2007), Toshio Hosokawa: 3 Essays (2015)
Fagot solo: Enno Poppe: Holz, Pierluigi Billone: Edre 2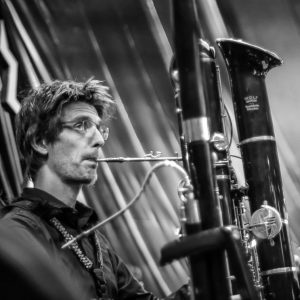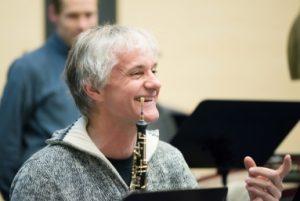 Tickets Nieuwe Noten Amsterdam: € 16 /€ 14 CJP / Student / Stadspas / 65 + / € 8 Kunst(vak) student
10 november 2019 15:00-15:45 – verrassingsconcert
Call for performance (soloist) for 'verrassingsconcert' of concertseries Nieuwe Noten Amsterdam 10 november 2019 15:00 @ Plein Theater Amsterdam
– 30 minutes program
– 300€ fee (+max €50 travelcosts)
– brandnew music or partly brandnew + 'older' contemporary music
– a grandpiano is not available (just an upright)
– next to the music Gita Hacham will perform her own work (poetry) and will interact with the musician (this part lasts 15min and is next to the 30min of program by the soloist)
– deadline for proposals is 1 october 2019
– the name of the performer will be announced the 10th of october 2019
– please do not send us any other proposals
– send your proposal to: Nieuwenoten@plein-theater.nl
We are looking forward to your ideas!
Fie Schouten & Aspasia Nasopoulou
Na ieder verrassingsconcert (45 minuten) is er ruimte voor een gesprek curatoren van de serie en de musici/sprekers in het Eetlokaal!
8 december 2019 15:00-17:00 – virtuozen op de toetsen @ Q-Factory info
Claveciniste Goska Isphording en pianiste Pauline Post, presenteren nieuw werk en gaan in gesprek met componist Cornelis de Bondt. De Pools-Nederlandse Isphording neemt een tip van de sluier over wat 15 jaar EU-lidmaatschap met de Poolse kunstscene doet.
Clavecimbel & electronics: premiere van Nina Fukuoka, tba.
Piano solo: premiere 3 delen piano-suite van Tobias Klein, tba.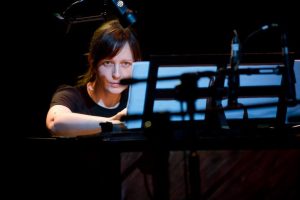 >bovenstaande vier concerten zijn mede mogelijk door steun van het Prins Bernhard Cultuurfonds NH<
Het openingsconcert van 22 juni 2019, 16:00 weerspiegelde waar de serie voor staat: nieuwe ideeën in klank en woord.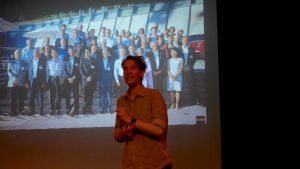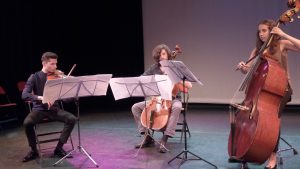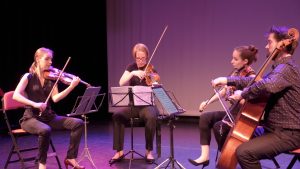 1) Het eerste deel van het concert is de interactieve lezing door componist Merlijn Twaalfhoven.
Praktisch Heldendom voor ieder van ons, de rol van schoonheid, verbeeldingskracht en spel bij de aanpak van wereldproblemen en de rol van kunstenaars. Samen met de aanwezigen vraagt hij zich af hoe we nieuwe helden kunnen vinden in deze tijd van klimaatverval, kunstmatige intelligentie en toenemende polarisatie. Merlijn was te gast in Composer's Treat residency 2019, wat onderdeel is van Cultureland in de locatie Buitenwerkplaats. Het resultaat van deze week deelt hij met het publiek door niet alleen te vertellen, maar ook de aanwezigen een ervaring mee te geven.
2) Masterstudenten Conservatorium van Amsterdam
Marta Fossas Mallorquí (cb), José Nunes (vla), Pau Sola Masafrets (vlc)
If the river was whisky (2007) – Max Knigge (1984)
3) Dudok (String)Quartet
Strijkkwartet nr 1 'Carillon' (1933) – Karl Amadeus Hartmann (1905-1963)
Strijkkwartet nr 1 ' Métamorphoses nocturnes' (1954) – György Ligeti (1923-2006)
Met dank aan Plein Theater, Cultureland, Composer's Treat
Nieuwe Noten Amsterdam naar Plein Theater Amsterdam >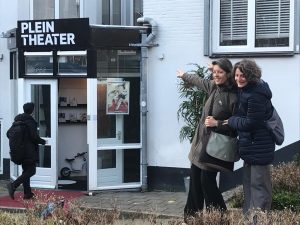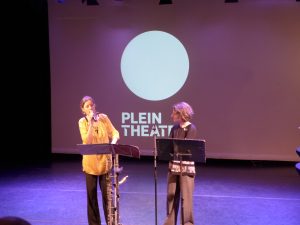 GEWEEST:
7 april 2019 15:00 @ De Ruimte, Amsterdam-Noord info & route
Sigurd Hole (double bass) – solo repertoire
Björk Níelsdóttir (soprano) what? – Anthony Leigh Dunstan
& masterstudents of Conservatory of Amsterdam:
Michele Mazzini (clarinets) – Scelsi & own piece
Jaume Dabra Fa & Rocío Palma (flutes) – duo by Nuno Lobo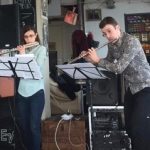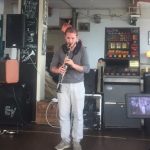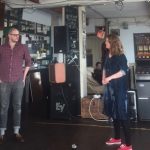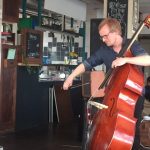 6 sept 2018 20:30 Oguz Büyükberber bcl & friends in De Ruimte
Seizoen 17/18 in De Ruimte en De Roode Bioscoop:
de concerten in 17/18 vonden plaats met ondersteuning van het Amsterdams Fonds voor de Kunst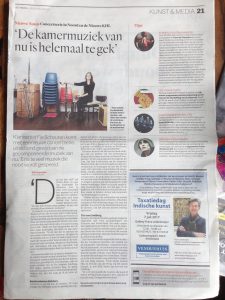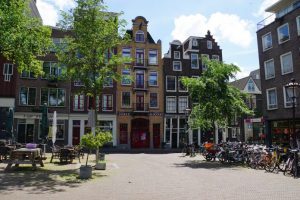 Interview door Aad van Nieuwkerk met Fie Schouten kijk/luister

3 juni 2018 16:00 TRIO ARTI @ De Roode Bioscoop
Fie Schouten (baskl), Eva van de Poll (vlc), Keiko Shichijo (piano)
Isang Yun – trio Rencontre
Wolfgang Rihm – trio Chiffre IVa
Helmut Oehring – trio Leuchter
Vanessa Lann – trio Dan neem ik een bloemkool
Stockhausen – solo In Freundschaft
Poëzie van Froukje van der Ploeg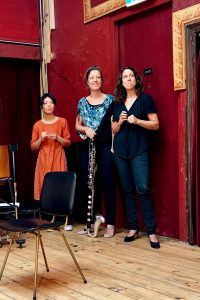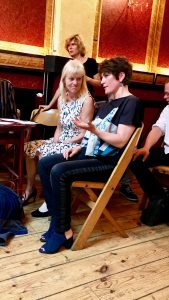 20 may 2018 14:30 Composer's Treat 2018: Jasna Velickovic @ De Ruimte
Marijn Korff de Gidts – percussie, Jasna Velickovic – composition & velicon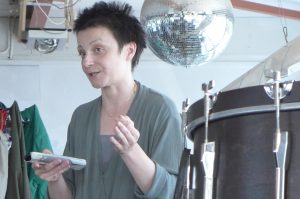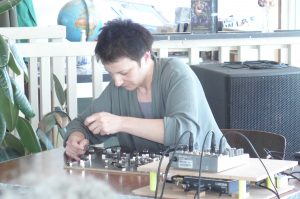 18 mrt 2018 15:00 Dare to fly  @ De Ruimte
Sabien Canton (harp)
Stefanie Liedtke (fagot, blokfluit)
Dan Weinstein (cello), Ilya Ziblat (electronics)
Poëzie van Frank Starik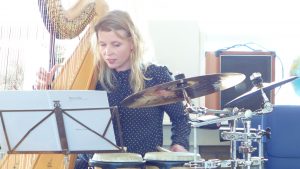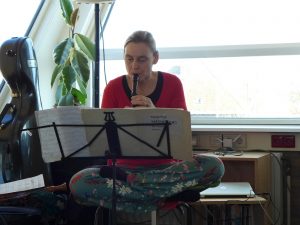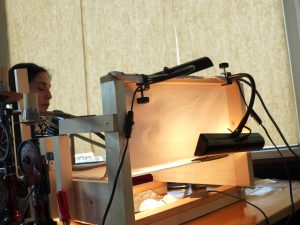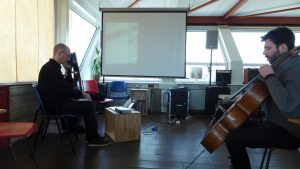 Muziek:
Dare to fly (PREMIERE!) – Hawar Tawfiq
harp solo
Monologue en uit Chinesische Bilder – Isang Yun
fagot solo, blokfluit solo
PREMIERE – Ilya Ziblat
cello & electronics

11 febr 2018 16:00 FLUITEN @ De Roode Bioscoop
Ilonka Kolthof piccolo, Ned McGowan cbass flute, Anne Veinberg piano
Composities van Piet Swerts, Ned McGowan, Bart Spaan
Poëzie van en door Sasja Janssen (bundel HAPPY)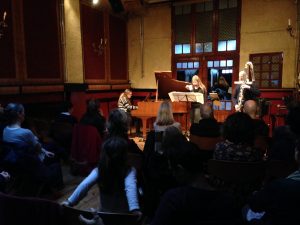 10 dec 2017 15:00 PERCUSSION & (BASS) CLARINETS @ De Ruimte
Andas – Lotta Wennäkoski (2008, 2bcl)
Schlaf – Enno Poppe (2011/2015, 2cbcl)
– Lyrisch Laag Fie Schouten, Jelte Althuis (bass clarinets/ contrabass clarinets)
Poetry by Rozalie Hirs
Liikumatuse dimensioon (2010) – Tatjana Kozlova-Johannes
– Fie Schouten (clar), Ryoko Imai (perc)
>the composer from Estonia was present!
Cheerers and Leaders (2016) – Cathy van Eck (1979)
– Rie Wanatebe (performer)
Poetry by Rozalie Hirs
" Etudes for Improvisors" (2010-2012) – Tomomi Adachi (1972)
-Rie Wanatebe & Ryoko Imai (percussionists-performers)
Improvisation by (bass)clarinetduo Büyükberber-Klein and Wanatebe-Imai
This concert is recorded by the Concertzender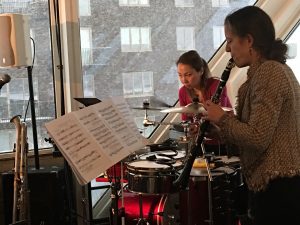 26nov NIEUWE NOTEN 15:00 @ De Ruimte Amsterdam-Nrd entry 3€
Host: Fie Schouten
Composers present: Pieter Smithuijsen, Aspasia Nasopoulou, Cinzia Nistico
Program:
Luciano Berio – Psy

 Pieter Smithuijsen – The Four Temperaments
 Aspasia Nasopoulou – Moriana (premiere)
– Antonis Pratsinakis – cello
Cinzia Nistico – Träumerei (premiere)
– Francesca Clements – basset blokfluit | Jelena Popovic – toy piano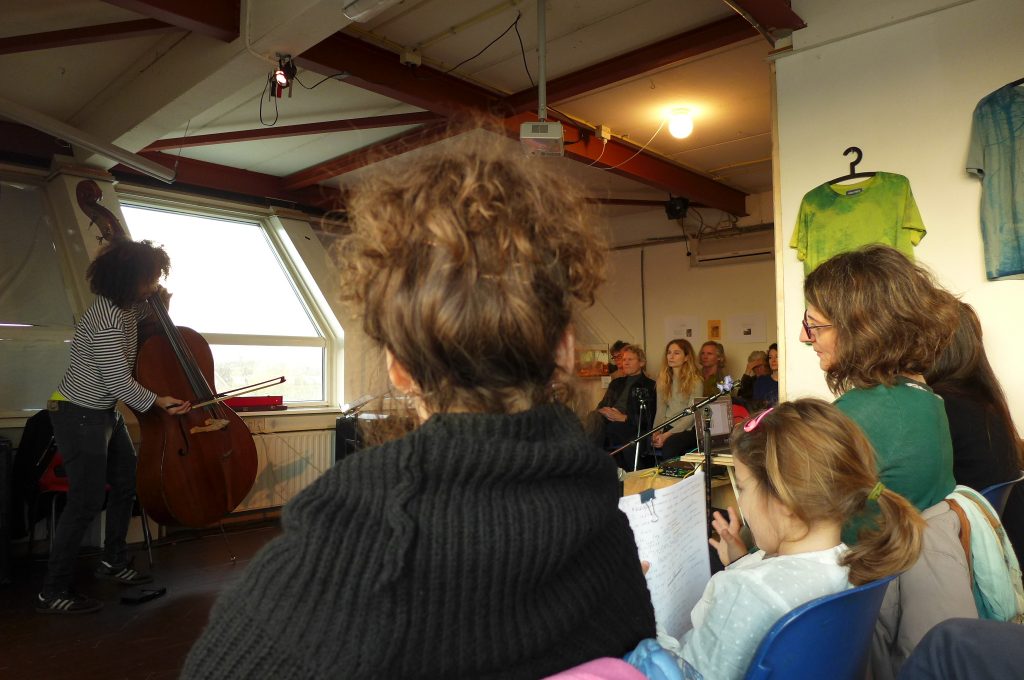 22 oct 2017 15:00 PARTCH – WOLFE @ De Ruimte Amsterdam-Noord
Works from Rose Petal Jam project (Partch)
– Ensemble Scordatura
Julia Wolfe – East Broadway
– Nora Mulder toypiano
Poetry: Joost Baars Binnenplaats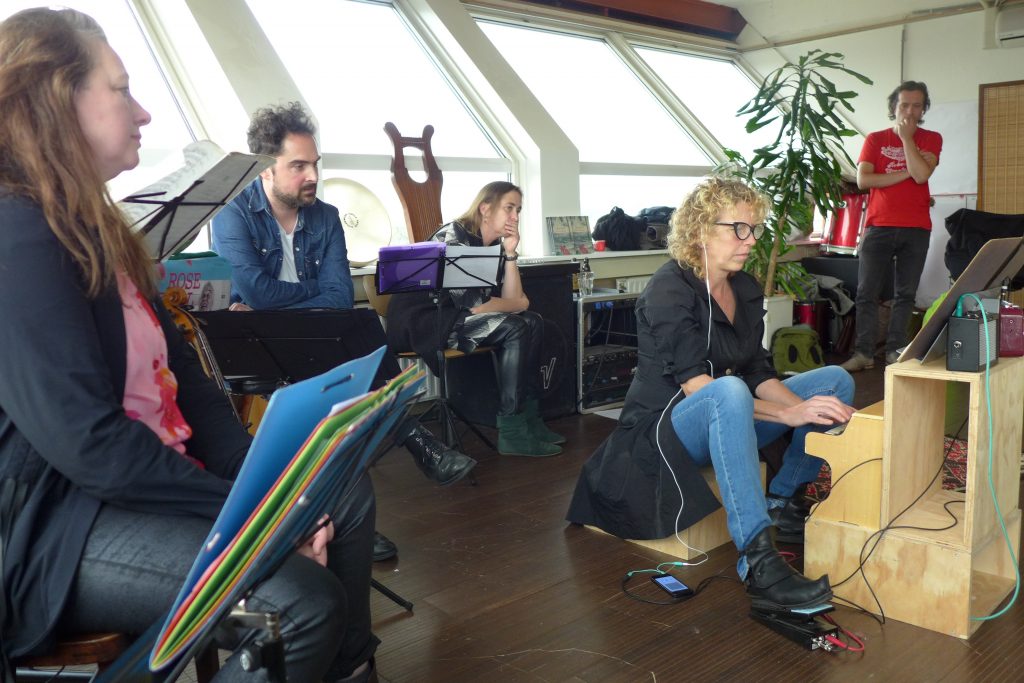 10 sept 2017 15:00 ACCORDEON @ De Ruimte
program:
Aleksandra Gryka ( b. 1977- Polish) – YUOMEC (2006)
Ewa Trebacz ( b.1973 POLISH – American) – Chordochromies (2003)
Ton Bruynel (1934-1998) – Chatarra (1990)
– played by: Goska Ispording – harpsichord solo
Mayako Kubo – Geras
Toshio Hosokawa – In die Tiefe der Zeit
– played by: Fie Schouten (bass) clarinet & Marko Kassl accordeon
Poetry: Hannah van Binsbergen Kwaad Gesternte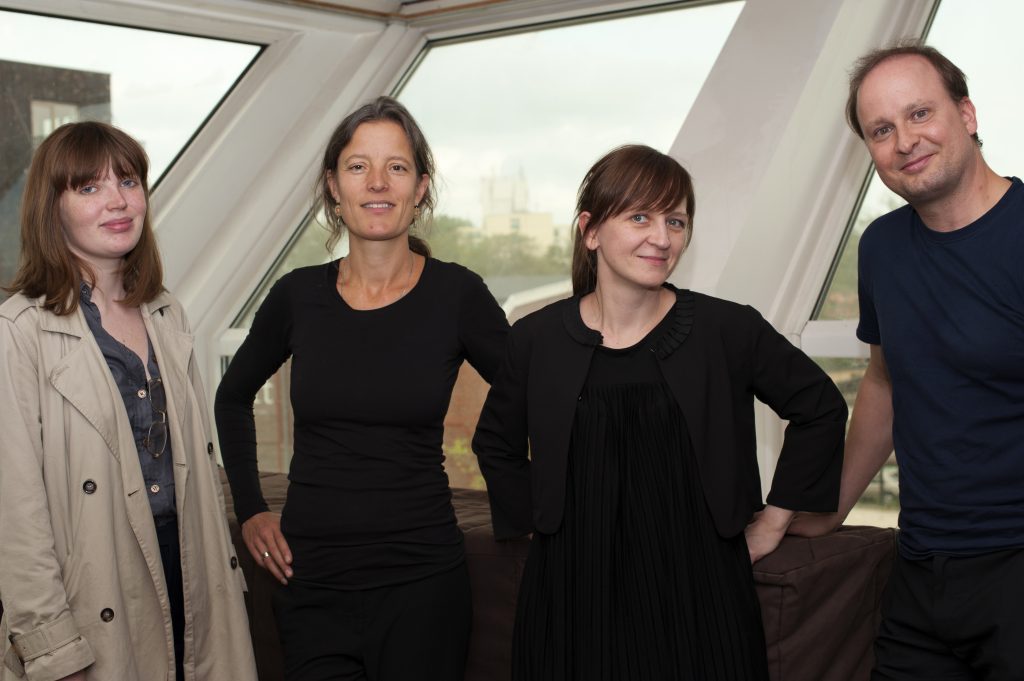 Interview op Concertzender 30aug2017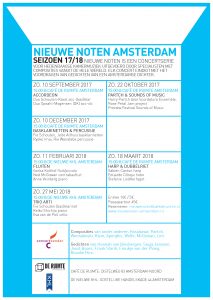 SEIZOEN 16/17

8) sunday 11 june 2017 16:00
Project of Thanasis Deligianis The Moon is Electric
7) sunday 14 may 2017 15:00
Duo Northea​​st: Galit Zadok & Juho Myllylä recorders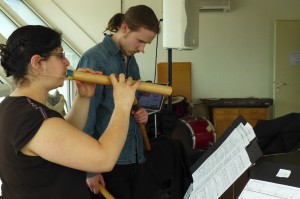 &
Maarten Zaagman percussie
I will carry you over hard times – Falk Hübner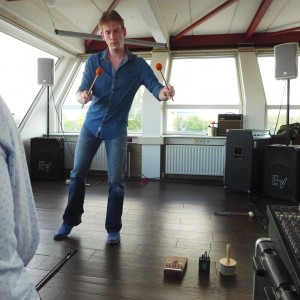 6) wednesday 12 april 2017 20:30
Clarice – music & literature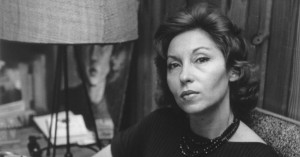 Fie Schouten, Jelte Althuis – clarinet | Giuseppe Doronzo – baritonsax | Ig Henneman – viola | Wilbert de Joode, Florentin Ginot – contrabass
5) saturday 18 march 2017 14:00
Open masterclass by Jelte Althuis on Tsoupaki's quintet Interface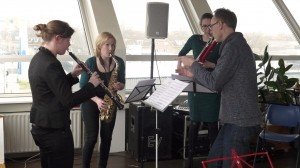 concert:
Reedquintet Interface – Calliope Tsoupaki, performed by students of Prince Claus Conservatoire
Massai – Christian Lauba Femke IJlstra altsax & Fie Schouten bass clarinet

4) sunday 22 january 2017 15:00
Eva & Cecylia
The blend of acoustic guitar and viola with live electronics resulted in a colorful mix of ambient, psychedelic, experimental and hypnotizing sounds.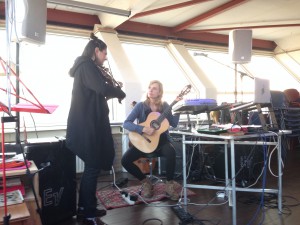 &
Fie Schouten – bass clarinet with premiere of "The first impulse" by Paul Frankhuijzen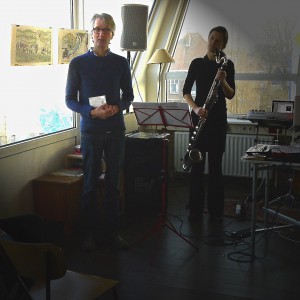 3) sunday 11 december 2016 15:00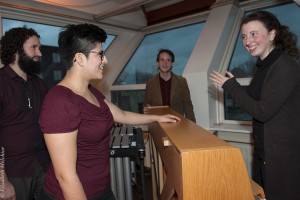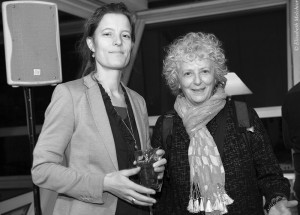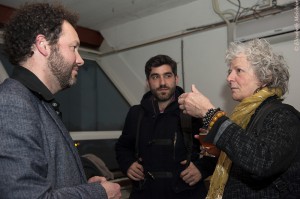 Passepartout Duo (B)
Nicoletta Favari piano | Christopher Salvito percussion
Music: Hannh Lash – C, Nikolai Kapustin – Nearly Waltz, Georges Aperghis – Quatre Pieces Febriles, Nikolai Kapustin – Burlesque, Steve Reich – Quartet
&
Jason Alder bass clarinet & electronics
premiere of Xical by Christina Viola Oorebeek
Patricia Roa Johansen – recorder & electronics
Entanglements – Roderik de Man
2) wednesday 2 november 2016 20:30
Musicians of the Atlas Ensemble:
Zhao Yuanchun (China) Erhu & Harrie Starreveld (Netherlands) Japanese shakuhachi
&
Parish of Tama by Robert van Heumen
Yung-Tuan Ku cement mixer | Leonardo Grimaudo electric bass | Oguz Buyukberber bass clarinet | Robert van Heumen laptop-instrument | Etienne Nillesen drums
1) sunday 2 october 2016 15:00
Kwintet van Martijn Padding door amateurs
repetitie olv Fie Schouten en componist Martijn Padding +presentatie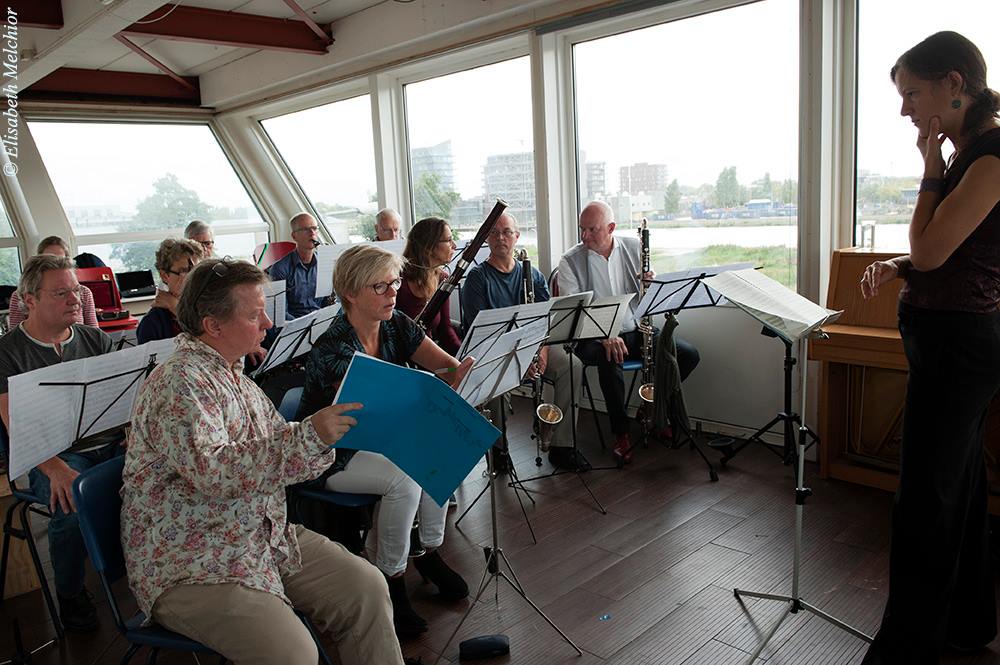 Lyrisch Laag:
Fie Schouten – Jelte Althuis (contra)bass clarinet, Giuseppe Doronzo baritonsax
Enno Poppe – Schlaf | Black – Marc Mellits | improvisation